How China dominated purchase of Nigeria's $2b power assets, by Nebo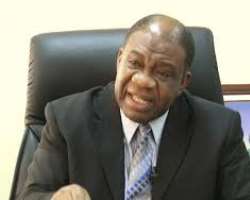 Minister of Power, Professor Chinedu Nebo, on Monday gave am insight into the real men behind the mask in the recently concluded privatisation of power assets in Nigeria.
He said that China stepped in with billions of dollars to steal the show , as countries of the West remained aloof to the exercise.
Nebo, who addressed newsmen in Abuja  on Monday, also said the Federal Government is determined to bring electricity to far flung communities with its 'operation light up Nigeria' this year.
Nebo said this as the EU reaffirmed commitment, this time around, to partner with the Federal Government on rural electrification.

The Federal Government raked in about $2.238 billion or N358.045 billion from the sale of 15 Power Holding Company of Nigeria (PHCN) successor companies. They were handed over to new owners comprising consortiums involving Chinese companies, on October 1, 2013, in the biggest privatisation sales ever in Nigerian and African history.

The sum was derived from the $559.44 million earlier paid by the 14 bidders as 25 percent of the total cost of their bids for the respective distribution (Discos) and Generation (Gencos) companies unbundled from PHCN.



Addressing newsmen in Abuja, he said government was targeting local communities that are far removed from the national grid with solar energy technology.

According to him, 'the way electricity delivery is structured in Nigeria today gives an impression that there are three Nigeria. One Nigeria are the urban centres that are connected to power but are not getting enough power, the other Nigeria are semi-urban, sub-urban and part rural areas that occasionally might have some distribution transformers deployed and getting about one to three hours supply on daily basis, then the third Nigeria is the area that is far flung from the National grid.

'No connection to electricity, no connection to the national grid and no connection in the foreseeable future. It is this third Nigeria that we now want to face because eventually with the master plan and the blueprint for transmission expansion of that Mr. President has endorsed number two Nigeria will eventually get power completely but the third Nigeria will still take years if not decades to have electricity saturation to the point of functionality, that why we targeted them.

'And knowing that these areas are far fling from the national grid we think that it is not going to be feasible to use gas fired turbines so we decided to go renewable so that the source of fuel is supplied by nature and we are emphasizing solar. So far it has been remarkable. For the past several years I have never seen the joy and euphoria we saw in these areas that we are working on now', he added.
He explained that it is not true that consumers were not willing to pay electricity bills, following the privatsation of PHCN, insisting that such 'was wrong information; some people believe that government should provide electricity at no charge to the people anyway.
'In these villages we are lighting up people are asking me how they are going to pay, we are trying to device a system which is digital and a scratch card, pay as you go. They are buying diesel, petrol, kerosene and candles. Some of them spend over N1000 a week on kerosene and how can they say they won't pay for electricity we are giving them now which can enable children read at night, have better social life. The medical facilities are working business are thriving all over the place, so they can pay but we have to teach them that they need to pay'.