Tension as bomb, fire rock Rivers courts, SANs kick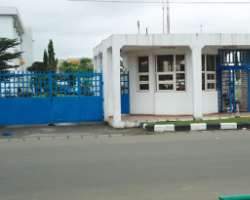 There was confusion in Rivers State on Monday as two High Court Divisions in Ahoada East and Okehi in Etche Local Government areas were hit by a bomb explosion and fire respectively.
The two incidents are coming on the heels of a similar explosion that occurred at the premises of the Ahoada High Court on December 18, 2013.
In Ahoada, the impact of the bomb explosion on Sunday night destroyed the office of the Nigerian Bar Association within the court complex.
The Ahoada High Court was expected to hear arguments on the vacation of an order restraining the member of the State House of Assembly, Mr. Evan Bipi, from parading himself as the Speaker of the State House of Assembly.
These had heightened the political crisis rocking the state as observers believed that the current trend of the crisis had assumed a dangerous dimension.
No casualty had been reported as of the time of filing this report.


Meanwhile, two Senior Advocates of Nigeria, Mr. Yusuf Ali and Mr. Adeniyi Akintola, have condemned the burning of a High Court in Ahaoda, Rivers State.
In separate telephone interviews with our correspondent in Ilorin on Monday, they warned against a recurrence.
Ali, who is the Chairman, Anti-Corruption Commission, Nigerian Bar Association, urged security agencies to apprehend the culprits and ensure that the full weight of the law was brought to bear on the perpetrators, if the act was intentional.
'I strongly condemn the act if it was deliberate. I condemn it with every fibre in me. The security agencies should go after the perpetrators if it was intentional. If it is arson, then we must get to the root of it,' Ali said.
Akintola appealed to the political class to avoid over-heating the polity.
He warned that nothing should be done to jeorpardise the nation's democracy and inhibit judicial activities and quick dispensation of justice.
Akintola said, 'The burning of the court is highly despicable and condemnable. I condemn it in all its entirety.
'I want to appeal to the political class to be very careful. Some of us fought and put our lives on the line for this democracy.
'It is quite unfortunate that some of those who had no iota of contribution or know the geography of any detention camp are the ones reaping the benefits. They have to be very careful.'
Details later — Punch