FRSC begs FG to expedite action on 2nd Niger Bridge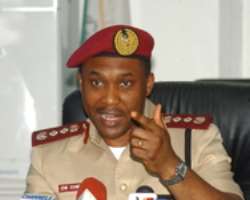 The Special Marshals of Federal Road Safety Commission in Anambra have appealed to the Federal Government to expedite action on the construction of the second Niger Bridge, to create alternative access route.
The Acting State Coordinator, Special Marshals and Partnership in Anambra, Mr Ben Osaka, made the appeal in Onitsha on Sunday.
Osaka said the delay and the pains motorists encountered by travelers would be a thing of the past 'if the second bridge comes on board''.
He said the need for the construction of the bridge became necessary in view of the increased vehicular movement on the bridge.
'We are earnestly praying for the second bridge to reduce the burden on everybody; drivers, travelers, traffic controllers as well as the Federal Road Safety Commission (FRSC).
'I got a call as early as 4:30 a.m. and since 5 a.m. I have been here at the Bridge-Head axis of Onitsha with other special marshals assisting the regular marshals.
'Although there had never been a gridlock, but the traffic had been building up due to upsurge of vehicles going toward the South-South; South-West; North-Central and other places in the North.
'Only a second bridge with an adjoining road, which will by-pass Onitsha metropolis, is the only magic we need now to check this problem,'' he said.
Osaka also urged the FRSC management to provide its Onitsha unit command, which is closer to the Niger Bridge, with a heavy duty truck and some vehicles for optimal performance.
He commended the Head of the Onitsha Unit of FRSC, Mr Anthony Metta, and lieutenants, for their 'sense of duty and dedication' to the cause of reducing carnage in the area.
Osaka said that they deserved to be encouraged through the provision of vehicles, especially heavy duty truck to enhance their performance, among others advantages.