The Peoples Man, Mentor and Maverick; Tonye Princewill @45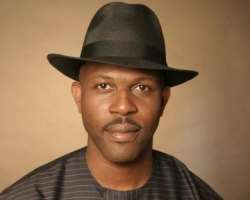 The fourth of January of every year is not just a day on the calendar but a very important day for one of Nigeria's brightest stars. Prince Tonye T.J.T Princewill, the son of the Amanyanabo of Kalabari Kingdom, king (Prof) T.J.T Princewill, CFR, Amachree XI, is that bright star.
Prince Tonye Princewill was born on the 4th of January, 1969, in the UK, and has since then gradually grown into a man of pedigree. Little Tonye, attended the Hillcrest High School in Jos, then moved on and gained admission to further his education at the Federal Government College (FGC) Port Harcourt. There he took his WAEC examination in 1985 and passed with encouraging grades. As faith may have it Tonye went through the four walls of a university and graduated from the department of Petroleum Engineering at the renowned University of Port-Harcourt. Like every proper citizen of Nigeria, Tonye obeyed the call to service, and did his Youth Service Corps exercise with Shell Nigeria in Port Harcourt. Tonye didn't stop there. He went on to acquire a Master's degree in Mineral Resources Engineering at the prestigious Imperial College, London.
TP as his friends often call him, landed London in 1991 with an open mind to achieve. He more than often claims to have landed the UK in1991 with only 30 pounds and with this, hard work and determination built his empire which cuts through Oil and Gas, IT, Construction, Aviation and Entertainment, just to mention a few. During his early days in the UK, Tonye served at different times as a risk analyst with the United Kingdom's Oil and Gas regulatory agency, a back office IT consultant to City Bank Global Asset Management and as a Chief Technologist to Panasonic UK, before taking the bold step to build break out on his own.
As a believer and advocate of centrist politics, Princewill holds tenaciously to the spirit of
equality and liberty. Chief Eze who in the time past wrote on the liberalist disposition of Prince Tonye said: "The political philosophy of Prince Tonye Princewill is anchored on liberalism as he believes
strongly in equality and liberty. Liberals are known to espouse a wide array of views depending on their understanding of these principles, but generally, they support ideas such as free and fair elections, civil rights, freedom of the press, freedom of religion, free trade, and right to life, liberty and property". Tonye strongly holds the opinion that "Politics is too important to be left in the hands of politicians". This he clearly displayed on some of his billboards strategically placed around Rivers State.
Prior to 2003, Prince Tonye Princewill was well known for his business perspicacity, but his resolution to put his wealth and family on hold to come back to his fatherland – Nigeria and particularly Rivers State to be part of the much needed transformation, was a wonder to many. His involvement in resolving the intractable crises in his community-Buguma was timely, as many lives were spared due to the dissolution of the crisis. This led to his decision to venture into politics where he surprisingly emerged the governorship candidate of the defunct Action Congress party in 2007 and then the leader of Forum of Organized Opposition Political Parties (FOOPP) from 2008 to 2010 when he eventually rejoined the Peoples Democratic Party for what he called "the right reasons".
Over the years Prince Tonye has been involved in many advocacy works, philanthropic activities, and the entertainment industry among others. This gradually made him a rare gem in the political landscape. Many of his feats were captured in his life documentary Man, Mentor Maverick which I watched lately on his website, www.tonyeprincewill.com. With loads of appearances on online media portals, National dailies, Regional/local newspapers, Prince Tonye gradually crawled into the hearts of many. His sudden popularity cannot be dissociated from his many philanthropic activities, mentoring strategies and most of all political influence. This drives many to suspect his attempt and possible success at the 2015 Governorship seat in Rivers State.
Recently, Prince Tonye Princewill has been in the news over what he described to
be Mr. Amaechi's political mistake, given the current political instability in the State and Country. Below are extracts from his recent interview.
"The short answer is No. Moving to APC is a mistake for him which has become inevitable. So I call it the inevitable mistake. The Governor boxed himself into that position almost deliberately and so if it
looks like beer, smells like beer and taste like beer, then let us all acknowledge that it is what it is. He chose the path he is walking. Talk of him being forced to take it is for those who don't know any better. Mr. President loved Amaechi and I suspect Amaechi loved him back but he put that love aside to perform his first love which was Chairman of the Governor's forum and his performance of it undoubtedly brought them into conflict. He naively thought that it wouldn't. Many of us advised him against it but he said, "The President is the Commander in Chief, I am just a Chairman, there will be no conflict." Now we can see how wrong he was. The President may have made peace with Amaechi but the President's men and women wouldn't, especially considering the media approach he (Amaechi) employed. The insults were too much and it only made a bad situation worse. People who have tried to kill the President have made peace with him so why not Amaechi. The answer comes from the lack of a sufficient desire for peace.
"Very few people have the authority to talk on this matter like small me. I understood the internal working of Amaechi's mind on this issue, I am very familiar with the President's personal view on this matter, I have worked with the heads of the current APC family (Tinubu and Buhari) at close quarters and I understand the pulse of both teams very well. So when I, who understands this in and out, say Amaechi was wrong, I know what I am saying and when I who has been there before say, "don't go", I know also what I am saying. Asking me to go there is like asking me to return to secondary school after leaving University many years later. A big mistake. It is the Governor's supporters I feel sorry for. He has been Speaker for eight years and will be leaving as Governor after eight years, so he can't complain.
But thanks to his decision, his "inevitable mistake", many councilors, LGA chairmen and other political office holders will have their political prospects cut short. It is them I pity. They are the real victims, alongside Rivers people. Amaechi will be fine" - Princewill
Prince Tonye is a man who believes and places the interest of his people above any other. This must have informed his resignation from Vision 2020 committee, to protest a military assault on Gbaramatu Kingdom, in Delta State. Again, he decided to drop his ambition to occupy the Brick House in the face of water-tight evidence that proved he was rigged out of the 2007 election. This he did to allow a stable undistracted running of the state. He decided to work with Mr. Amaechi in what was called a unity government, first of its kind in the history of the country. For Princewill the enemy of his enemy was his friend, and this spirit evolved into a very cordial and productive relationship between the Governor and the Prince. But the situation today is different.
Hear him: "It is no longer what it used to be but that is also inevitable. I have supported him at my own expense and it was no longer wise to continue to do so. Each man to a box they say. Most of the negativity I get today was because I decided to support Amaechi's government in 2007. Some accuse me of doing it for money, others accuse me of lacking the fighting spirit, and some go as far as calling me a sell-out. All that because I decided after fighting a good fight that I should allow what I saw as a divine decision to stand. I sold all I had to fight the 2007 election but after I supported Amaechi, I had to leave the state to survive because I was not a government 'pickin' who survived off government leading up to
2007 so why should I be lazy and become one now? Amaechi knows this. I did some work but it was not at all commensurate with my input and even though I finished it after one year, it took them over two years later to pay me. But I never complained. Amaechi was a good man and I know he appreciated me.
"Amaechi was like aradite anyway so empowering me was not his first, second or third interest. I noticed this and went about my business. Many say I was involved in Silverbird, the 1000 bed hospital, waste management and many other things but the truth is not what it seems and one day it will all come out. In 2011, I engineered over 1/2 a billion Naira of contribution to Amaechi's campaign. Majority of the contributors came with money from outside Rivers state. Did Tonye Princewill see one contract worth that much? No. Yet I still stood by him. Because I was there for the state's interest, not my pocket. That support I gave Amaechi cost me politically but I didn't look back. I gave it. In the end God will judge us.
"My people supported him tooth and nail but yet they were not acknowledged. I asked and asked, they were promised and promised but even after he told them in public and on National TV that he likes to
keep his word as an example to his children, he didn't. Still I supported him. He removed our commissioners in his cabinet, still I supported him, he promised other appointments and failed, still I
supported him, because I was not there for me. If I was interested in me, I would have done things differently, had a deal with Omehia and collected 1.5 billion from him. All this I did because I believed
Amaechi came from God. I never knew him before October 2007, yet I was more useful to him than people who grew up with him in politics. Many of my supporters felt that my refusal to fall out with him signified I was eating fat and content. This was not the case.
"I saw my support as a stabilizing force. The Riverine were agitating for a Governor after eight years of an Odili upland regime. People like me deciding to stand by Amaechi gave him credibility and soothed
the Riverine / Upland divide that has dogged our state for so long. One day I sincerely hope that Amaechi looks at my role and realizes that he lost a friend given to him by God. It might be too late for
us, but let him not do this to others. Eventually it catches up with us. The same man he called corrupt aka Mr. Consumables and not wanting to do politics with is now the interim Chairman of APC in my state,
the same man he called an irritant and refused his calls is now his spokesman and the list goes on. He deliberately poached members of my team without the courtesy of my consent and did it only when he needed them. But I am not bitter. They are good men and deserve recognition. I am glad for the role I played in their lives. Good luck to them. I only wish he had recognized them sooner".
As you get set to mark your birthday, I enjoin you to reflect on issues in advance; Issues that will change the current atmosphere in Rivers State; Issues that will bring back the Garden to the City. Also find it in your heart to forgive those who might have offended you in this political era. The current Governor of Rivers State still needs you advice and wise counsel. Though in different parties, don't deprive him of this. This is a divine call. Don't be weary, don't be discouraged, your future is bright, with people like you; the future of Rivers state is bright also. Search within, seek the face of the lord and if it's his will, come and serve. God bless you Sir.
Happy Birthday Our Prince
Hector Spiff can be reached on [email protected]