Army: We are on top of security situation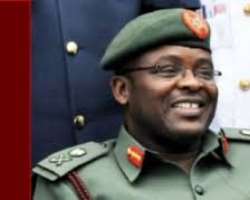 The Chief of Army Staff, Lt.-General Azubuike Ihejirika, on Tuesday reaffirmed the commitment of Nigeria's military to ensuring security of lives and properties in the country.
Ihejirika assured Nigerians that the military is properly equipped to deal with any emergent security challenge.
The army boss, who spoke at the 4 Brigade Headquarters of the Nigerian Army in Benin City,    urged all brigade commanders across the country to be conscious of the Armed Forces strong belief in military-civil relationship.
He said,  'Let me seize this opportunity to reassure all Nigerians that the Nigerian Army is ever ready to put in its best towards ensuring a safer country, and unity of this nation. I also thank Mr. President and Commander in Chief of the Armed Forces, Dr. Goodluck Ebele Jonathan for making the needed resources available. It is important to note that since he took the mantle of leadership, a lot of rehabilitation and improvement in our operational capacity have been witnessed.
'At least two to three new barracks have been developed, with so many works on going. As at 2010, the armoured fighting vehicles available to us, particularly the main battle tanks were down to maybe just one that could barely start but the picture is changing as we strive to rise to the challenges of insecurity we are faced with today.'
He  commissioned several structures and projects embarked upon in the last 11 months by the outgoing commander of the Brigade, Brigadier-General Pat Akem.
Akem was promoted a few days ago was promoted to a new rank.
Ihejirika was accompanied senior military officers from the Defence Headquarters and 2 Division, Nigerian Army, Ihejirika commended President Goodluck Jonathan for improved funding of the armed forces since he assumed office as President of Nigeria, just he called on insurgents to embrace the President's peace gestures and stop using violence for their political ends.
Ihejirika, who commended the Brigade Commander, Maj.-Gen. Pat Akem for his resourcefulness, said the military, especially the army, 'have bought into Mr President's transformation agenda.
'That is why the brigade commander and others like him are making use of scarce resources to transform the lives and working environment of officers and staff of the brigade.
'The transformation agenda of government will not be possible except we all play our different roles at our different levels to complement Mr President's efforts in achieving it.
'I commend Akem for sustaining the healthy military-civilian relations essential for the growth of our democratic practice.''
Ihejirika promised the army would continue to do its best to ensure safer country and unity of Nigeria.
'I thank Mr President for making resources available for the army since his assumption of office.
'He has brought a lot of improvements to the military in terms of rehabilitation of infrastructure and provision of logistics for improved operational capacity.''
Earlier, Akem thanked the chief of army staff for making resources available which enabled him to execute the projects.
Akem praised the leadership quality of Ihejirika, saying that 'it propelled me in achieving this feat.
'I am particularly happy about the healthy relationship between us and the civil society'', he said.
Commenting on officers that may have missed the recent promotion which he said Akem suffered in the past, Ihejirika  added: 'I will recall that when you (Akem) missed your promotion last year as Commander 9 Brigade perhaps for reasons of vacancy and so on, you did not relent, it did not affect your job in anyway so I therefore encourage all those who have not been so lucky to be promoted this year to continue to work hard and look forward for a brighter future.'