FirstNation Airways commences flight service Port Harcourt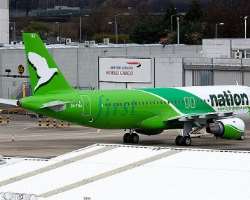 FirstNation Airways has begun a new service between Lagos and Port Harcourt.
The project manager for the airline, Luke Terver-Uzer, said the expansion into Port Harcourt was following the airline's acclaimed and well received service between Lagos and Abuja.
FirstNation has within a relatively short time cultivated strong passengers following mainly multinationals, corporate organisations, as well as passengers who value safety and good customer service.
The airline says it is also offering season promotion of low fares subject to availability on the route.
'FirstNation Airways operate modern Airbus A319. She operates young aircraft fleet when compared with peers within Africa. The Airbus A319 series are the very first sets of A319 to come on Nigerian register. The aircraft are installed with AFIRS 220 iridium satellite global communication equipment one of the very few aircraft with this state of the art Satellite Navigation (SATNAV) equipment operating in West Africa.
'The SATNAV provide crew reliable voice and simultaneously connect to aircraft systems analysing performance in-flight. This allows the airline to track aircraft system performance in-flight from ground. This is one of the most advanced SATNAV systems which support the airline flight operations quality assurance oversight. Nigerian Civil Aviation Authority (NCAA) is actively encouraging Airlines to upgrade their fleet with this equipment,' he said.
FirstNation Airbus A319's cabin layout is in two class of twelve business class legroom pitch of 42 inches and the rear cabin in comfort class with legroom pitch of 32 inches.
The aircraft offer the widest seat pitch for regional operation within West Africa today.
Terver-Uzer said FirstNation Airways will operate two daily flights departing Lagos MMA2 terminal at 0930hours and 1445hours and from Port Harcourt at 1150hours and 1650hours and thereafter operates on the route daily and will offer service on New Year day.