Budget 2013: Govt withdraws unspent funds from ministries, departments, agencies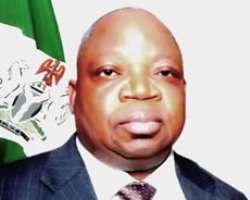 The Federal Government has commenced the withdrawal of funds released under the 2013 budget but were not spent by its Ministries, Department and Agencies before the end of 2013.
The Accountant-General of the Federation, Mr. Jonah Otunla, confirmed this during a chat with journalists on Tuesday in Abuja.
Otunla, while addressing journalists in company with the Director-General, Budget Office of the Federation, Dr. Bright Okogu, however, noted that funds for the constituency projects of members of the National Assembly would not be returned to the treasury.
He said officials of the Ministry of Finance and the OAGF would ensure that funds that had not been used by the agencies were returned before midnight of December 31, 2013.
Otunla said, 'Our people are on the field in the various ministries; and usually, officials from the Ministry of Finance do not sleep on the last day of the year. So, we will wait for them to come.
'Usually, funds for personnel cost are not always mopped up. The government has also decided that funds for constituency projects, because of their special interests, will not be mopped up too.'
He said for agencies on the Treasury Single Account, officials of the OAGF did not need to leave the office to mop up their funds as this would be done electronically since the funds were in the Consolidated Revenue Fund.
According to him, from 2014, all agencies that are funded by the government will be on the TSA, adding that this will simplify the process of mopping up unspent funds.
On the allegation by the Association of Senior Civil Servants of Nigeria that the December salary of some civil servants had not been paid, Otunla said 98 per cent of all government workers received their pay for the month before December 19.
He said, 'The association has yet to communicate its alleged concerns to the Federal Government as a basis for taking necessary action. We have confirmed that at least 98 per cent of all civil servants received their December salary before the 19th of the month.
'The salaries of a small proportion of civil servants have been delayed because their MDAs have yet to update their bank accounts details with the OAGF to meet the 10-digit NUBAN number specified by the Central Bank of Nigeria.'
Otunla said that unapplied salaries were intact, adding that the claim by those who issued the statement that salary delay was proof that the country was broke was political in nature.
On the progress so far made with the Integrated Personnel and Payroll Information System, which is meant to block leakages in personnel costs, the AGF said about 265 MDAs had joined the new system.