Jonathan predicts great future for the Nigerian child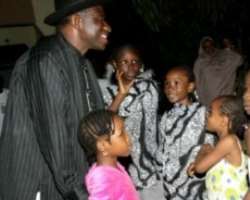 President  Goodluck Jonathan has said that his story is an indication of the great possibilities before every Nigerian child.
Jonathan who used seized the opportunity of the season's religious festivities to predict a brighter future for Nigerian children, urged the Nigerian child to be trust in God.
The President, joined residents of Abuja, the Federal Capital Territory, to worship at the Apostolic Faith Church in Jabi.
He called on Christians to continue to pray for the continuous peace and unity of the country, in the midst of daunting challenges.
He said that despite its diversity, Nigeria has remained as one nation. Therefore citizens need to shun the barriers created by the diversity and embrace togetherness at all times.
The president, who uses the holiday season and yuletide to worship in any church he likes, stressed that if he could make it to the highest place in the land, then no Nigerian child should suffer.
The service, which had all the trappings of end of the year and the festive season, with the traditional over 100-man orchestra, with rich accompaniment of musical instruments, also saw the children presenting a special rendition for Mr President.
The General Overseer, Reverend Emmanuel Adeniran, while noting in his message that the visit of the President on the last Sunday of the year is of great significance, also reminded the congregation that one's closeness to God matters a lot, above all.
The special guest, while promising to continue to do his best, thanked the church for their prayers and called on Nigerians to join in the prayers while hoping for a better 2014.
He shared with the congregation more of his great expectations for Nigerians in the new year, especially the children.
The president said that despite the challenges that face the country, Nigerians should be grateful to God for wonderful mercies and kindness towards her.