South Sudan agrees peace terms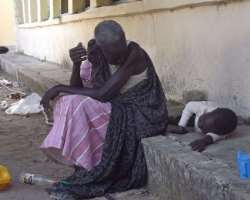 The lives of tens of thousands of people have been disrupted by the fighting | credits: AFP
The government of South Sudan has agreed to an immediate end to fighting with rebels, East African leaders meeting in Nairobi say.
The leaders said they 'welcomed the commitment by the government of the Republic of South Sudan to an immediate cessation of hostilities'.
They called on rebel leader Riek Machar to 'make similar commitments'.
More than 1,000 people are said to have died in recent fighting in the world's newest state.
At least 100,000 people have fled their homes, with about 60,000 seeking refuge at UN compounds across the country, according to the UN, which is sending extra peacekeepers.
President Salva Kiir is engaged in a deadly power struggle with Mr Machar, his former vice-president. Members of Mr Kiir's Dinka ethnic group and Mr Machar's Nuer community have both been targeted in the violence.
East African regional leaders, who make up an eight-member bloc known as Igad, held talks in the Kenyan capital Nairobi a day after the leaders of Kenya and Ethiopia met President Kiir in South Sudan's capital, Juba
They have said they will not accept a violent overthrow of the government in South Sudan. BBC