Insurgency: Jonathan expresses worry over media scaremongering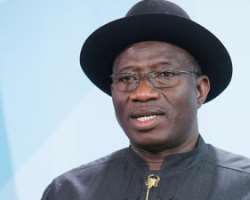 President Goodluck Jonathan, on Thursday, expressed concern over what he described as reckless scaremongering by the media over the ongoing insurgency in parts of the North-East, following media interpretation of his remarks during the Christmas Day church service in Abuja.
A statement issued by presidential spokesman, Dr Reuben Abati, in Abuja observed that a section of the media wrongly quoted the president as saying that 'terrorism has come to stay'' in Nigeria, saying that the report was 'completely untrue and a mischievous misrepresentation of the President's remarks.'
It said Jonathan's verifiable remarks at the Cathedral Church of the Advent, Life Camp, Abuja, were to the effect that in comparison with some other countries which have experienced the scourge of terrorism, Nigeria has made remarkable progress in dealing with the security challenges posed by terrorism and insurgency.
The statement said: 'Headlines such as 'Terrorism Has Come to Stay' and 'Insurgency Far From Over - Jonathan' are, therefore, most incongruous with the thrust of the president's remarks and amount to taking extreme editorial liberties with his comments at the church service.
'It is apparent that in their indecent haste to cast the most sensational and negative headlines, some editors never paused to consider that it would have been most absurd for a president whose administration has done so much to reverse the tide of terrorism, to publicly assert the contrary.
'While speaking at the Church where he worshipped, along with members of his family, his aides and some ministers, President Jonathan only pointed out that whereas terrorism remains a global challenge and a source of continuing concern in some countries, Nigeria has done comparatively better in reducing the incidence of terrorist attacks within its borders to a 'reasonable level.'
'Interpreting those remarks, which are clearly in tandem with facts available to all objective observers of Nigeria's war against terrorism, as an expression of defeat or helplessness, amounts to reckless scaremongering which can only serve the purpose of needlessly instigating fear among the populace and bolstering the confidence of criminal and unpatriotic elements.'
The Presidency, therefore, urged the media to eschew undue negativity and join hands with the government to patriotically promote peace, national security and political stability.