An Open Letter to Chief Olusegun Obasanjo (Just Before We Forget)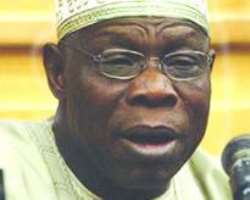 Dear Sir,
It is with my greatest delight to write you this open letter as I pick my pen from the golden basket of love; especially as this Christmas season denotes love. I write this letter with a heart filled with love.
Sir, on different platforms I had tried to sneak at least a short note into your notepad, but because the walls around you as the sitting President were too tall, I was forced to resign to the realities of governance in Nigeria – where the same people we queued up in the scorching sun and drenching rain to elect, barricade the walls around them when they get to office. There wouldn't have been any need to write you this open letter had any of my short notes made its way into your notepad, and you also sparing few moments to read and ruminate on it.
Sir, this open letter may have coincidentally come in a season when the current situation in the country has surreptitiously turned every concerned Nigeria into a letter writer, but does it really matter from whose mouth the truth is being said? And at what time? Certainly not. The truth has to be told at all times not minding whose ox is gored. Frankly speaking also sir, this letter is not coming in defense of President Goodluck Jonathan or his government whom you addressed your "Before It Is too Late" open letter to. This letter, like yours, is borne out of genuine love and it is intended to bring to our attention some of the things that may have been forgotten, apparently due to our phenomenal tendency to put up selective amnesia.
Sir, there is no doubt about all you explicitly articulated in the 18page open letter to President Jonathan (many of which even lacks fact and proofs) but how can we forget the many profound terrible things that happened in your 8yrs uninterrupted reign as a democratic President of this republic? Meanwhile, I thought they say that those who want to come to equity must come with clean hands?
First of all sir, the crises we see rocking the ruling party is a product of the system you bequeathed on us. Apart from the fact that the party has witnessed more chairmen than necessary since 1999, there is nothing happening now, that is new under the sun! The late Chief Solomon Lar also opened a parallel office in 2006 under your Presidency and many other disagreements among you and other party stalwarts.
In your letter, you talked about President Jonathan's undemocratic system of government: Sir, I was thrown off balance to read such statement coming from you. Have we so soon forgotten how you fired Audu Ogbeh (as the PDP Chairman) for summoning the balls to write you a letter over the crisis rocking Anambra state in 2004? An absurd state of anarchy looming when a sitting state governor, Dr. Chris Ngige was kidnapped; Or how can we forget how you frustrated the ever resilient Gov. Rotimi Amaechi out of the country for merely asking for his democratic right in Rivers state?
Sir, one of the things you never got right – while in office – was your penchant to hit back spontaneously at every dissenting view. I have never forgotten and will never forget how you ruined the blossoming career of one of Nigeria's best rappers and Hip-hop artist, Eedris Abdulkareem; when he wrote a song he titled, "Nigeria Jaga-Jaga". I am yet to get over the shock. I feel very saddened anytime I remember how you frustrated that young man's career whose lyrical prowess, street credibility and literary combination is second to none. Eedris Abdulkareem could have won a Grammy for Nigeria, but you shut him up and frustrated him out of the country for several months. Sir, I still remember your unguarded response to him: you ludicrously said "na your papa jaga-jaga, na your mama jaga-jaga". What can be more incongruous? I make bold to say that 'Jaga-Jaga' is the least of adjectives that have been used to lampoon this government, but no hair has dropped on the ground, neither has anybody's career been ruined.
Furthermore, you subtly inserted that President Jonathan is treating corruption with kid glove. It is laughable sir to assert that, and I make bold to puncture that in all entirety. Sir, your concept of fighting corruption (during your days in the office) was more of political witch-hunting and hypocritical conspiracy. Sir, I watched with keen interest as the so-called corrupt governors or juggernauts you sent EFCC after, were those whose political ideology and principle were in dissonance or not in tandem with yours. They were those who stood to strengthen democracy and its constitutional idealism. They were those who fought with their might and blood against your unconstitutional third term agenda, which was obviously illegal! To refresh our memory sir, one of the victims of your so-called concept of fighting corruption is Dr. Orji Uzor Kalu, whom you didn't just send EFCC after, but was made to cough out a whopping N100m in the name of bail fee. Sir, remember also that you politically frustrated Slok airline out of the country? An airline owned by Orji Uzor Kalu. The operation of that airline would have provided jobs for the unemployed then, but you were uninterested. The same airline has been functioning very effectively in Uganda. Anyway, one can only hope that the management of the airline take their case back to the Federal Government, as we seem to now have a government with listening ears. A government that place reasoning above sentiments and or politics.
On the numerous crises rocking the PDP; again sir, it might be a blessing in disguise. Granted that a family as large as the PDP is bound to have people with diverse orientation, interest, mindset and what have you, but how long shall we continue to facilitate between exuberant enthusiasm and irrational irritability? Take a look at the defected G5 governors and their pushers, who've been fomenting troubles here and there, how many of them actually have the interest of the nation above any other thing in their heart of hearts? The crux of their agitations is obviously to axe the current Chairman of the party – Chief Bamanga Tukur – out. This they are doing because they see the octogenarian as an encumbrance to their selfish motives, and will always place his exit from the position as a top priority for any peace talk to hold. Sir, without equivocation, their individualistic exit from the party is one of the best things that will ever happen to the party. It may sound ridiculous, but it's a blessing in disguise. You cannot stop a moving train with a broom.
Ultimately sir, you were one of the architects God used to bring President Goodluck Jonathan to power. It is a notorious fact. But suffice it to say that the era of one mafia or militia group dictating who gets what, when and how, has been overtaken by modern day realities. The advent of the social media and other enlightening platforms is bringing information closer to the people and making it resonate so loud for the deaf to hear. Information they say, is power. Gloriously, the unfortunate era of one group, region and or religion holding the entire nation by the jugular has eroded; many of which happened because we were still in the "stone age".
Imperatively sir, that you have written more than four letters to the President and was greeted with a deafening silence doesn't smack of disrespect to your respected person. In fact, like the late Prof. Chinua Achebe said: "those whose palm-kernel was cracked for them by benevolent spirits must never forget to be humble". It could be that there is a time to speak and a time to remain utterly silent.
I deduced also from your letter sir, a subtle frustration of neglect in the major issues affecting the country you "fought and bled for". But on the contrary sir, only a bastard will use the left hand to describe his father's house. It is also you the elders in Yoruba that says, "ti omode ba ri oyin aso akara nu" (meaning when a child sees honey, he or she will throw away the beans cake for it). There may have been another formula for solving this algebraic equation (Nigeria) that may not be known to you. But like a concerned Nigerian, you have raised an alarm, which is commendable.
Sir, I must also remind you of the Igbo proverb that says; when you point an accusing finger the three other fingers pointed at you. Throughout your reign as the CEO and Commander-in-chief of the armed forces of Nigeria, I never for once knew who your minister for Petroleum (which is the economy mainstay of Nigeria) was. Perhaps, you didn't deem it fit to delegate such money spinning ministry to anybody. But did any hair drop? Absolutely not!
In 1999 when you sent soldiers to level up Udi community in Bayelsa state – because they were obstructing economic activities for the entire country – there were a million and one other ways of addressing their grievances and the issues at stake, but you chose to apply the military mentality. Thank goodness that the Court has ruled for the community to be compensated for the untold hardship bequeathed to the community by your administration.
Sir, I can go on and on to remind you of how many companies that left the shores of Nigeria to do business in neighbouring countries. I mean well established companies like Dunlop Elite Tubeless and co. they did not abscond because you had BokoHaram scourge to contend with – then, they left because of the unfavourable economic and political environment.
Should I also remind you sir, how in a bid to encourage domestic production, you blatantly shutdown the borders (without careful consideration of its consequences). Maybe I should also remind you that one of my uncles whose houses were demolished by your administration in Abuja is yet to be paid the necessary compensation till date, even after doing all the needful as required by the law.
Furthermore, how do we forget so soon that you intentionally seized the statutory allocations of Lagos state government for several months? Simply because you have a personal vendetta with the then Lagos state governor, Ahmed Bola Tinubu. What can be more ludicrous than a whole state being starved of due allocations because of your personal and political interest? As if that was not enough, a competent court of jurisdiction also ruled that the funds be released to the Lagos state government but you flouted the order and feigned deaf ears. Sir, where then is your moral compass to berate or criticize this administration, when you obviously did worse things?
Sir, what was the state of our roads during your tenure? The airports? Our railway system? What about the huge funds your administration told us you invested in the power sector without result? What about Fuel products that were never made available, especially during festive periods? And so on. Respect and trust are two essential ingredients of human relations that must be protected with all consciousness. Because if either of them is lost, it will be difficult if not impossible to regain. For most part of your administration, we respected and trusted you, but you threw caution into the wind.
Sir, your ascension to throne in 1999 was a little bit similar to that of Nelson Mandela (because you both came from prison to power) and you had the opportunity to beat his unprecedented records but you did otherwise. That never forgiving spirit (which was Madiba's most powerful tool as a leader) still dwelt with you throughout; and here we are today reading an 18page epistle from you. Certainly, the gods are not to be blamed.
Conclusively sir, the issues you raised and bequeathed on this government are inexhaustive and will require more than epistles to address. Therefore, I'd like to drop my pen here. However, it is instructive to note that governance is a continuous process and as such, all the failures your administration bequeathed on successive governments are being addressed now. Many of the wrong rulings are now being nullified and negated now. Many of the wrongs are now being re-written….and we thank whatever the gods maybe that brought this government to power. Sir, we have had enough of your concept of governance, it's now time to get serious.
Best wishes sir and compliments of the season.
From a concerned Nigerian and a voice in the desert.
Simeon Christian Chukwu
Ex Editor-In-Chief
Psychology Press Organization,
University of Ibadan
Follow on Twitter @ Xtianrooy