National Conference: There was no minority report, says Tony Uranta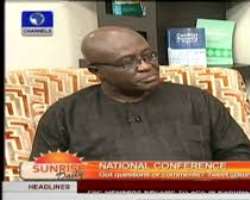 A member of the Presidential Committee on National Conference, Tony Uranta,  has debunked  claims of a minority report as being bandied in the media.
According to him,  every member of the committee was present when the Chairman of the Committee, Senator Femi Okorounmu presented the committee's report to the president and none raised any objection to the report..
'Our chairman, Sen. Femi Okurounmu emphatically ensured that there is no minority report' adding that the committee members noticed that 'he (chairman) paused for a minute and gave room for any member to get up and say no I have a minority report' but 'nobody did,' he said.
Uranta said that the committee made a 'very comprehensive presentation of 16 Volumes, and more than 4, 000 pages in our report' after going round the six geo-political zones of the country and discussing amongst the committee members.
It would be improper, he said,  for any of the committee members to 'reveal what we recommended until the Presidency so decides' adding that 'it is public knowledge that the President has announced that it (the conference) is going to begin early next year (2014)'.
He further revealed that the President has 'instructed the minister for the economy and finance to make available, funds for the conference to be facilitated by'.
On the commencement and end date of the conference, he was not able to say.
He said simply:  'We too have heard rumours that the conference may begin in February next year' but he could not give a specific end date because of 'a range of options' that the committee recommended to the President.
Uranta noted, however, that  going by the popular demands of the people of Nigeria, it requires a range of three to six months for the whole process to be accomplished.
He further noted that the committee employed the services of experts from different fields to complement the ones they had on the team, to make  a wide range of options on the recommendations made by the committee to the President.