Nigeria's Armed Group Threatens To Resume Attacks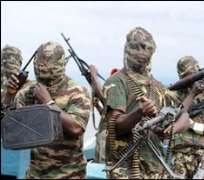 Nigeria's most prominent armed group threatened Thursday to resume attacks on the country's oil sector when a unilateral three-month ceasefire lapses at midnight (2200 GMT).
The Movement for the Emancipation of the Niger Delta (MEND) has been engaged in an "oil war" for the past three years which slashed Nigeria's output.
MEND spokesman Jomo Gbomo said a resumption of its armed campaign was "most likely," in an emailed response to an AFP query.
"But it will be confirmed after midnight tonight," he added. In an email last week, the group threatened to intensify its campaign after negotiations with the government of President Umaru Yar'Adua failed to materialise.Nigeria 'Oil War' timeline
Yar'Adua's government has meanwhile pressed ahead with an amnesty open to all militant groups in the Niger Delta, which MEND rejected.
The response to the amnesty offer, which ran from August 6 to October 4, was declared a success by Yar'Adua, who told an OPEC delegation on Wednesday that it had resulted in a return to peace in the oil-rich south.
"The general amnesty I extended to all militants in the Niger Delta has led to the laying down of arms and a return of peace. Agitations are now over," he said.
The government's amnesty committee, which has predicted that as many as 15,000 militants could eventually give up their weapons, said last week that 8,000 had so far handed over their arms.
Oil production in Nigeria, the world's eighth-biggest exporter, has suffered badly as a result of a mixture of kidnappings, sabotage and threats that has characterised MEND's campaign against major oil companies like Shell. AP
The campaign began in earnest in 2006 with the kidnapping of four expatriate oil workers.
It forced Nigeria to slash output from 2.6 million barrels a day to the current 1.7 million.
MEND, which says it is fighting for a greater share of the Niger Delta's oil wealth for local communities, declared an initial 60-day truce on July 15, before extending it for a further 30 days.
But the militant group said the government's much vaunted amnesty programme had failed to address the key issues of under-development and injustice in the Niger Delta.