Turkey PM plans major reshuffle after bribery probe - reports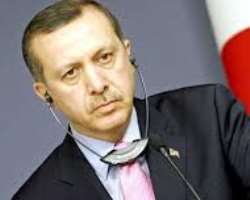 Turkish Prime Minister Recep Tayyip Erdogan is planning a major cabinet reshuffle amid mounting tensions over an anti-graft probe that has touched the heart of the government, local media reported.
Erdogan, who was already expected to reshuffle his cabinet ahead of local elections on March 30, is expected to replace 10 ministers by the end of the month, the Hurriyet newspaper reported.
Rattled by the worst scandal of his 11-year rule, Erdogan has described the probe as a "smear campaign" against his Islamic-rooted Justice and Development Party (AKP).
Twenty-four people including the sons of Interior Minister Muammer Guler and Economy Minister Zafer Caglayan, as well as the chief executive of state-owned Halkbank, have so far been charged as part of three separate investigations into the bribery allegations.
The interior and economy ministers denied the accusations on Sunday.
Guler said he offered his resignation to Erdogan last Tuesday when the police conducted the raids, in a statement to the state-run Anatolia news agency.
Several media reports claimed the ministers caught up in the probe were due to be replaced.
Observers have interpreted the raids as a result of tensions between Erdogan's government and Fethullah Gulen, a hugely influential Muslim cleric who lives in the United States.
Erdogan swiftly responded to the raids by sacking dozens of police chiefs.
The Gulen movement wields considerable influence in the state apparatus including the police and the judiciary.
Thousands of protesters in Istanbul took to the streets on Sunday, demanding the resignation of the AKP government. Police fired tear gas and water cannon to disperse the crowd who gathered in the Kadikoy square on the Asian side of the country's largest city. - Agence France-Presse