Kidnappers collect ransom, refuse to release father of ex-Super Eagles player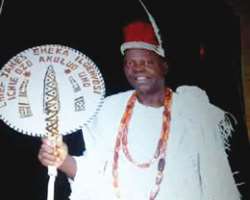 About a month after kidnappers abducted the 83-year-old father of a former Super Eagles defender, Chikelue Iloenyosi, in Anambra State, the victim is yet to regain his freedom.
The victim, James Iloenyosi, was kidnapped on November 25, 2013.
Following the kidnap, his family was contacted after which N50m ransom was demanded.
It was learnt that after negotiations, the family paid the kidnappers an undisclosed amount over two weeks ago.
It was gathered that the kidnappers had refused to release the octogenarian after collecting the ransom.
It was also learnt that the State Security Service, the Nigerian Army and the police were all investigating the matter. - Punch.