Ekiti PDP Leaders Unite For 2014 Governorship Election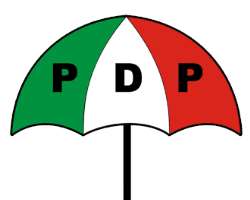 Not willing to give anything to chance concerning the next year governorship election in Ekiti State, leaders of the Peoples' Democratic Party (PDP) in the State have commenced a process of ensuring unity among the party members.

Rising from the meeting of the Ekiti Central Senatorial PDP Leaders Forum held at Iyin-Ekiti on Sunday, the party leaders said; "winning the 2014 governorship election is a task that is achievable if all members of the party work together."
The meeting, which will now be held fortnightly, was aimed at fostering greater unity among the party members in the senatorial district, in particular and the State in general.
Former Commissioner in the Ekiti State Teaching Service Commission, Chief Femi Balogun, who was the chairman of the meeting, urged party leaders in the Senatorial District to eschew sentiment and work towards presenting a credible candidate for the party.
Also speaking, the National Patron of the PDP National Youth Vanguard, Ambassador Gbenga Olofin said party members should bear it in mind that the party's flag-bearer in the 2014 election will emerge through primary election.
Olofin, who said no aspirant had been anointed as the candidate, added that; "Our leaders at the national level are not going to impose anyone on us. We are the ones that will choose our governorship candidate and we must make sure that we choose a candidate that no one can rubbish in terms of credibility."
Immediate past member of the State House of Assembly, representing Ekiti West Constituency 2, Hon Ajibade Owolabi dispelled the rumour that President Goodluck Jonathan was planning to support a candidate of another party, saying; "From what we were told in the meeting that we held in Abuja a few days ago, Mr President is solidly behind us."
Others who spoke at the meeting, which was graced by prominent leaders of the party were, former member House of Representatives, Hon Kehinde Odebunmi, Director General, Prince Adedayo Adeyeye Movement (PAAM), Hon. Bisi Kolawole, Mr. Martins Ibikunle, Chief Q. C. Omodara, Chief George Ajanaku, among others.