A Figment of Imagination: The Reconciliation of Sen. Effiong Bob and Umana Okon Umana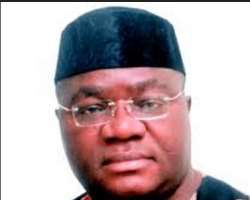 The article in the Nation's newspaper sounded credible: "The former Secretary to Akwa Ibom State Government (SSG), Umana Umana and the Chairman of the Governing Council of the University of Benin, Senator Effiong Bob, were at the weekend forced to reconcile their political differences."
For some reason, Akwa Ibom people, especially those of Nsit Ubium Local Government Area, jubilated over the news. Some said it was a sign of goodwill for Umana, who is poised and cocked up ready to succeed Akpabio as the next Governor of Akwa Ibom State, no matter what. Others praised Onofiok Luke for his ingenuity in "forcing" the two to reconcile.
To get to the truth of the matter, I contacted Senator Effiong Bob to set the record straight. I began by asking him how on earth he would collect N5 billion from Akpabio without blinking. He laughed. "Anybody who believes that Akpabio would allow any Ibibio person to own N5 billion, let alone Akpabio giving an Ibibio person N5 billion, must be dreaming. He can give it to a Yoruba man. He can give it to an Igbo man. But to Ibibio man? I don't think so. So, those who write all that nonsense can continue to write, I cannot stop them and I don't think anyone can stop them."
How about the reconciliation between the Senator and Umana Okon Umana? "It is nothing but figments of imagination in the minds of those who have circulated the story," the Senator said.
"Listen," the Senator continued, "Umana Okon Umana has the right to vie for governorship or for any office. But I will never support Umana Okon Umana. What people seem to forget is that Umana wanted to kill me. What people seem to forget is that Umana was the one who engineered my arrest over the death of Edidem James Obot---the Paramount Ruler of Nsit Ubium. Why on earth would I support such a person? If he did that to me when he was not a governor, just imagine what he will do when he is a governor."
"Umana Okon Umana is on his own now. He is the one who connived with Akpabio to create problems. The way he made his bed is how he is now finding himself on top of it. As far as I am concerned, there is nothing like reconciliation between us."
"The reason I attended the event was because Onofiok Luke invited me. I decided to attend the event out of respect for the young man. I did not even know that Umana would be in attendance. Whether the event was orchestrated to reconcile us, I don't know; no one told me in advance that such was the item in the agenda. But let's assume that the purpose was to reconcile us, since the event, has Umana Okon Umana called me to issue apology for all he did to me? Of course he hasn't!"
"When Apostle Isaiah Isong prayed, at the end of the prayer, just like others in attendance, I said Amen. I was surprised when in less than 24 hours, I read in the news that I, Senator Effiong Bob, has reconciled with Umana Okon Umana. I just laughed and shrugged my shoulders in disbelief that people can publish that type of nonsense."
"Let me tell you something; our people have a saying that when someone bites your anus without worrying about smelling the feces, why should another person worry about the snort when he wants to bite the nose?"
"Let Umana Okon Umana and Godswill Akpabio go and settle their differences and leave Effiong Bob out of their mess. I am not and I have never been their problem. When Umana was eating, drinking, laughing, and enjoying his life with Akpabio, did he remember anybody, other than himself? So why is he anxious now about reconciliation, especially with those he trampled upon in order to please Akpabio?"
People have to bear in mind that it will take a minimum of 10 years to undo the damage Umana and Godswill Akpabio have done to the Ibibio and Akwa Ibom State. Why should I reconcile with such people and why should I endorse someone like Umana Okon Umana for governor?"
NOTE: I informed Senator Effiong Bob that I will make public the content of our conversation. If he had disagreed, this article would never have been written and our conversation would have remained a private one between us.
Ikpafak Thompson Essien, Portland, Oregon
Disclaimer:

"The views/contents expressed in this article are the sole responsibility of the author(s) and do not necessarily reflect those of The Nigerian Voice. The Nigerian Voice will not be responsible or liable for any inaccurate or incorrect statements contained in this article."