Don jazzy's father to play lead actor in Tunde kelani's movie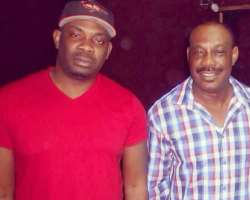 It feels good to see families in the entertainment industry and doing good, just like many families we know striving well in the entertainment industry today, the Afolayans, the Okoye's, the Edochie, the Aneke twins, the Jacobs and many more.
The popular music producer's Don jazzy's father Enebeli Collins will be starring in Tunde Kelani's upcoming film 'Dazzling Mirage'.we learnt that Collins will play lead actor Kunle Afolayan's father in the movie.
'It's my wedding day and Don Jazzy's father plays my father in 'Dazzling Mirage', Kunle Afolayan wrote on his Blackberry personal message.
The movie also stars the likes of Lala Akindoju and Bimbo Manuel.