Gov. T.A. Orji's Love For A United Nigeria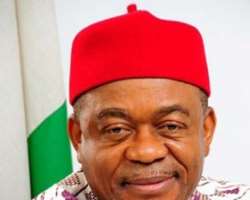 At the Enugu State Correspondents' Chapel Press Week held on November 10 2013, Governor Theodore Ahamefule Orji of Abia State raised hope of recalling the non-indigenes who were working in the state's ministry that his government blatantly sacked and beat its chest that it had done the glorious thing. The governor sermonised that he was recalling the workers because of his love for a united Nigeria. He pleaded that Ndigbo should wave aside whatever that transpired before the sack.

But in ala-Igbo, it is an insult for a man to go to the house of a bachelor to look for a woman to marry. The thing is that the governor insulted the entire Igbo people by that single act, which he later fumed that the idea was to replace Abia indigenes in the workforce of the state with the sacked non-indigenes. This goes a long way to tell the world how Gov. T. A Orji dines with vendetta. His thoughtless point was that if others were killing non-indigenes in their respective states, he should also join the shoddy bandwagon.
In that occasion in which he was represented by his Senior Special Assistant on Youth Development, Gov. Orji did not tell us that he was bent on developing Abia State, just as the states he said that he followed their footsteps do in development. No wonder the Igbo would say that a child is quick at learning the bad side of a language.
Whether the world would take Gov. Orji seriously in the future is left for the world. But the fact remains that he has disappointed the trust the people once had for him, no matter the magnitude of his assurance that he would not be found engaging in such inglorious policy of sacking Ndigbo who were in the civil service of Abia State, simple because they were not originally aborigines of the state.
We could remember how the elections of 2011 was conducted in Abia State, where perceived indigenous political foes were hounded and their supporters intimidated at the polls with security agents, but here is Gov. Orji telling the whole world that it is only in Abia State that non-indigenes contest elections and win.
If indigenes of the state from opposition political parties could cry out about their experiences at the polls in their own state, your guess is as good as mine of what the fates of the non-indigenes are in Abia State. Let's not delve into other states like Lagos State, where non-indigenes have been winning in elections without the governor making political statements out of it.
As if the governor was just waking from sleep, he assured people that his unkind policy would not happen again. He knew that he is reviled even to the West end. He resolved to tell the non-indigenes in the state to see themselves as indigenes, when he had already spilt the bean. The governor knew that nothing in the world would make our people to support him, hence he resolved to drag the federal into the ditch he dug for himself.
Sadly, Gov. Orji has found out that he needs our Igbo people but he deserves rare possibility. An anonymous observer captured the decision of Gov. Orji in the following lines: Claptrap! He was caught with his hands in the cookie jar. This is what to expect from ineffective politician who do things for parochial reason. Now that his tenure is almost over, he suddenly found Jesus.
Much as our people of Abia State have resolved, they have vowed that the governor should not think of coming to vie for any political seat again.
He would not stop to take such unpopular decision as sacking non-indigenes in Abia State, but would come to show crocodile tears in the open.
It is time the governor stopped using sugarcoated stories such as recalling non-indigenes he sacked from Abia State civil service when there is nothing on ground to show that he has earnestly recalled them. It is a paper recalling, where ignorance oozes out high level of irresponsibility.
Let Gov. Orji know that he is not fit to be a governor in our state, because posterity has already been judging him for his incompetence. Gov. Orji should stop hating and preaching hate gospel.
Odimegwu Onwumere, a Poet/Writer,
writes from Rivers State
Tel: +2348057778358
Email: [email protected]
www.odimegwuonwumere.wordpress.com
Disclaimer:

"The views/contents expressed in this article are the sole responsibility of the author(s) and do not necessarily reflect those of The Nigerian Voice. The Nigerian Voice will not be responsible or liable for any inaccurate or incorrect statements contained in this article."
Articles by Odimegwu Onwumere