Maradona writes off Eagles, tips Argentina to win 2014 World Cup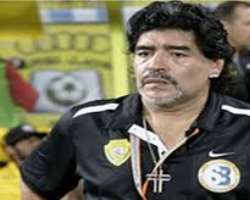 ARGENTINE soccer legend, Diego Armando Maradona has written off Nigeria and other group opponents and tipped Albiceleste to defeat the Super Eagles in their Group F match on June 25 in Porto allegre and go on to win the 2014 FIFA World Cup in Brazil.
Argentina, Nigeria, Bosnia-Herzegovina and Iran have been drawn in Group F, with the Lionel Messi-captained side hugely tipped to secure the top spot in what observers see as a relatively easy group, when compared with others.
In their three previous confrontations with Argentina at the World Cup, the Eagles ended on the losing side and despite a resurgence in the attacking play of the African champions, Maradona, insisted that the current South American giants have enough firepower to see off all their prospective opponents in Brazil.
In a  recent interview, Maradona backed his country to win the 2014 World Cup, after failing to lead them to the winner's circle as manager in 2010, and breaks down why he believes they will be victorious in Brazil.
'1986 will be repeated and it will be in Brazil. Argentina will be champions of the world, but they will have to do battle against the 'morochos (Brazil)', who are very tough.
'Germany and the Netherlands are very good, Italy not so much and Spain is getting bored of its own tactics. It goes forward and forward, but cannot convert.'
Maradona went on to reflect on his aforementioned managerial stint in 2010 and defended his decisions before losing 4-0 to Germany in the quarter-finals.
'I have no regrets about the team I put in. That was it. It wasn't the moment to put in Verón or Pastore. I was the one with the group and I knew that they were the best.'
Maradona concluded by praising his compatriot, Barcelona's Leo Messi, despite picking Real Madrid forward, Cristiano Ronaldo to win the 2013 Ballon d'Or.
'We Argentines don't know how to enjoy what we have, not only in football but in life in general. There's always something to comment on or a comparison to make. Leave Messi alone, stop comparing him.'
Meanwhile, in order to get the team in top shape for the World Cup, football officials in Argentina confirmed last night that Argentina will play a friendly match against Slovenia on June 1, which is expected to be the team's last match before their first Group match against
Bosnia-Herzegovina.