EU 'CONCERNED' OVER FAIRNESS OF US DEFENCE CONTRACT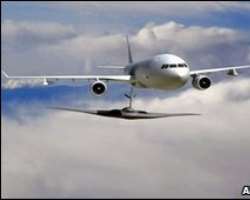 EU 'concerned' over fairness of US defence contract
Northrop and EADS were planning to use an Airbus design
Brussels has said it would be "extremely concerned" if the defence group EADS was prevented from fairly bidding for a major US defence deal.
Its comments came after pan-European EADS and US partner Northrop Grumman abandoned a bid for a $35bn (£23bn) mid-air refuelling aircraft contract.
Northrop Grumman and EADS said the terms of the Pentagon tender "clearly favour" US aerospace giant Boeing.
Boeing is now widely expected to win the contract for the aircraft.
'Disappointed'
The United States Air Force is seeking to replace its ageing fleet of 1950s-built KC-135 air tankers, which refuel other military planes in mid-air.
ANALYSIS
By Jorn Madslien, Business reporter, BBC News
There is nothing graceful about EADS and Northrop Grumman's withdrawal from the competition to deliver planes that refuel US fighter jets mid-air.
Winning the contract would have bolstered the two stalking horses' coffers with much needed cash.
Instead, this saga may well have soured cross-Atlantic relations for years to come.
The two clearly feel that favouritism by the Pentagon has dashed their hope of wrestling the US Air Force contract from Boeing and, in the process, unseating the giant from its top spot in US aerospace.
Many European policy makers agree.
Read more: Boeing wins mid-air battle
Northrop and EADS planned to supply a tanker plane based on the large capacity A330 plane made by EADS subsidiary Airbus, while Boeing is proposing to base its tanker on its smaller 767F freighter.
Northrop said the US defence department's latest proposed air tanker requirements were unfairly geared towards a smaller aircraft such as the 767.
The European Commission said in a statement that "it would be extremely concerned if it were to emerge that the terms of tender were such as to inhibit open competition for the contract".
It added that it "will be following further developments in this case very closely".
Meanwhile, German Federal Minister of Economics and Technology, Rainer Bruederle, said he was "disappointed by the way the US defence ministry acted".
He added that the rules had "clearly favoured" Boeing, when "open competition should not be decided unilaterally".
The Pentagon said it regretted the EADS/Northrop Grumman decision, but US authorities have yet to respond to the European Commission's comments.
Northrop and EADS had planned to assemble the tanker planes in Alabama, where 300 new jobs would have been created.
Alabama Senator Richard Shelby said the competition had been wrongly "structured to produce the best outcome [for Boeing]".
"The air force had a chance to deliver the most capable tanker possible to our war fighters and blew it," he added.