The Quadrant Company Organizes Party For Journalists In Lagos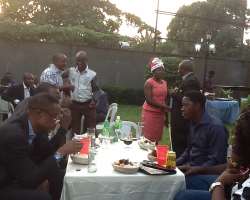 Nigeria's first full service public relations outfit, The Quadrant Company (TQC) on Wednesday December 18, 2013 organized a unique and fun filled end of the year media party at its corporate head office, 32 Ladoke Akintola Street, GRA, Ikeja, Lagos. It was a galore of excitement and endless merry making for everyone in attendance.
The blissful event was honoured by a foremost marketing communication specialist of international repute, Mr Biodun Shobanjo who is also the Chairman of TQC. Besides, the event also recorded huge presence of seasoned media practitioners both in the print and electronic media, teeming clients of TQC, members of staff of TQC as well as the chief host, Mr Bolaji Okusaga, the Managing Director of TQC.
For those who do not know, at the second quarter of 2013, TQC made a groundbreaking milestone when the company unveiled Qlichy.com, an innovative business portal to link people searching for up-to-date information on businesses and organizations anywhere in Nigeria. This initiative largely improves the way business is conducted in Nigeria, being primed to advance e-commerce to enable all businesses that sign-up on Qlichy to enjoy seamless transactions on TQC portal on the Interswitch platform.
One of Qlichy's veritable strengths is the rendition of business intelligence solutions that experts say would revolutionize the public relations industry by helping take full potential of the power of the internet in Nigeria. The portal called Qlichy.com, has the capability to expand opportunities for organizations, by maximizing their digital presence, while reaching consumers, stakeholders and other businesses in a unique and cost effective way. Qlichy.com will also serve as a platform for business and industry leaders to lead thoughts in their various sectors, public discussions on current issues and publicising of news and events on brands in Nigeria and beyond to mention but a few.
There is no doubt that TQC has not renege in its core value of creating and maintaining a flow of interest in its subject, while communicating tangible facts, creating insightful investment propositions and helping to nurture a constructive engagement with target investment constituencies locally and internationally, just as TQC is planning to offer its clients improved and better service in 2014 through its esteemed, thorough and cerebral team.
EMMANUEL AJIBULU
OMOLARA OLAOSEBIKAN WITH SOME JOURNALISTS
PARTICIPANTS ON A COCOA FARM
PIX