Unions protest suspension of UNN Pro Chancellor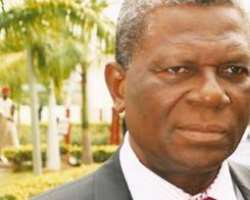 The entire academic community of the University of Nigeria, Nsukka (UNN) emptied into the streets of the campus in protest of the suspension of the Chairman of the University Governing Council and Pro chancellor, Dr. Emeka Enejere.
The Chairman of the Academic Staff Union of Universities (ASUU), University of Nsukka chapter, Dr. Ifeanyi Agada, who led the protest alongside the leadership of other academic trade unions, said the suspension was a display of intrigue, corruption, and abuse of office by the Supervising Minister of Education, Nyesom Wike and the Executive Secretary of the National Universities Commission (NUC), Professor Julius Okojie.
He stated that normalcy would never return to the university until the Pro chancellor was reinstated.
The joint action committee of trade unions accused the vice chancellor of the University of conniving with the supervising minister of education to suspend Dr. Enejere.
The unions including ASUU, Non-Academic Staff Union, (NASU) and National Association of Academic Technologists (NAAT) demanded the immediate and unconditional reinstatement of Enejere without which they would ground activities at the institution till further notice.
Marching from one end of the campus shouting slogans of resistance to intimidation, and never
deterred by the heavy security presence, the unions challenged the education minister to explain the justification for suspending Dr. Enejere without reason, query, interaction or warning, wondering 'why he is averse to civilized conduct in handling official matters in the education sector and why he wants to destroy the President's transformation agenda'.
They also expressed bitterness over the administrative incompetence of the Vice Chancellor who they said must be sacked with immediate effect.
The union in their collective resolve maintained that normalcy will continue to elude the university until their demands are met. They encouraged each other to continue to manifest high sense of integrity, transparency and commitment to change the ugly face of the university.