Jonathan asks new Permanent Secretaries to shun corruption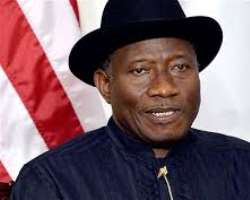 President Goodluck Jonathan on Wednesday  charged the four newly appointed  federal permanent secretaries to shun corruption and support his administration's efforts at curbing the menace.
Jonathan who gave the charge during the swearing in of the Federal Civil Service Commission at the State House charged the permanent secretaries to inject new blood into the service.
He said, 'You should know that these are days where a world is a global village, everything you do is known to others and of course people are talking of corruption in this country. 'We believe that you are coming to the system with new blood, new vigour, new commitment and these should be brought to bear in terms of our collective efforts to fight corruption in our society,''.
He also commended the merit introduced and sustained in the appointment of permanent secretaries. He said so far, the appointment made by his Administration had been strictly based on merit. 'The appointment of Permanent Secretary is one position that nobody will say there is influence.
'If there is influence, the Office of the Head of Service has to be probed.
'They are appointed base on merit and sometimes, when I see the record, I feel sad at some point.
'This is because the score sometimes could be close and somebody could miss the appointment by just one mark.
'That is what we have been doing over the period and the nation expect continued dedicated service from them in their new position.''