CBN backtracks, says NNPC diverted $12bn, not $50bn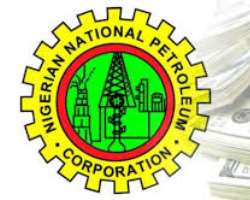 The Central Bank of Nigeria (CBN) on Wednesday backtracked on its allegation that the Nigerian National Petroleum Corporation (NNPC)  diverted close $50 billion.
The apex bank said it had received clarification on the subject, but that the state-oil company NNPC was yet to account for $12 billion it earned from oil sales.
The central bank said in a letter dated Sept. 25 to President Goodluck Jonathan that NNPC had failed to pay $49.8 billion of revenue it earned from selling the country's oil in the 18-months up to July this year into the federal government account, in violation of the law.
The letter was leaked to the media last week, prompting public outcry. Finance Minister Ngozi Okonjo-Iweala, Central Bank Governor Lamido Sanusi and Petroleum Minister and NNPC Chairwoman Diezani Alison-Madueke have since held talks.
Sanusi said on Wednesday that after the discussions it was assured that NNPC was only responsible for paying $28 billion from oil exports and had submitted $16 billion to the government, although $12 billion was still outstanding.
Analysts believe that the CBN was too hasty in making such serious allegation against the operations of a sister company. Some suggest that the governor of the CBN was simply feeding into the political crisis in the country, asking why it it did not consider seeking the clarification before making the mind-boggling charge.
Oil accounts for 80 percent of government revenues and a shortfall of $12 billion would amount to more than a third of the central government's annual budget.
Nigeria's oil savings account has been depleted to around $3 billion, from $9 billion a year ago, making Africa's second largest economy more vulnerable to any oil price fall.
"We're told that the shortfall has always been part of an ongoing discussion with the finance and petroleum (Ministries) and NNPC. So this is where we are," Sanusi told reporters.
Former World Bank director Okonjo-Iweala said there had been some misunderstandings which led to the central bank letter being written but no money was missing.
"There are some shortfalls that both the NNPC and ministry of finance have been working on for quite some time, but no money is missing," she said, without saying where the funds were or when they would be paid back.
NNPC has been criticised for lacking transparency in recent years but Sanusi appears to be one of the most high-profile figures to have brought up the issue with Jonathan.
Nigeria's Senate has launched an investigation into the reports that NNPC has withheld government revenue.
Africa's most populous nation and its top oil producer is growing as an investment destination but corruption scandals still tarnish the country's image.
NNPC exports Nigeria's share of around 2-2.5 million barrels per day of oil the country produces, mostly in joint ventures with oil majors like Royal Dutch Shell, Exxon Mobil , Italy's Eni and Chevron.
A report in 2011 by Transparency International and Revenue Watch found NNPC to have the poorest transparency record out of 44 national and international energy companies it evaluated.