FG to phase out non-biodegradable plastics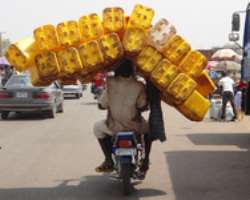 The Federal Ministry of Environment, in collaboration with UNIDO, in Abuja on Tuesday, began the process of phasing out non-biodegradable plastics, to ensure the nation's environmental sustainability.
The Supervising Minister of Environment, Mr Darius Ishaku, said this at the stakeholders' workshop on the phase-out of non-biodegradable plastics in the country.
Ishaku said that the ministry began the process of phasing out bio-degradable plastics with a stakeholders' workshop, to sensitise Nigerians and develop an action plan for its phase-out.
Non-biodegradable plastics are plastics that either do not break down at all or that requires mechanical or chemical process break down.
Represented by Mr Taiye Haruna, the Permanent Secretary in the ministry, Ishaku said that plastic waste accounted for more than 20 per cent of the municipal solid waste in the country.
"The Federal Government recognises that the uncontrolled use of plastic materials and indiscriminate disposal of plastic waste particularly shopping bags and pure water sachets, is detrimental to the environment.
"The large-scale flooding of major Nigerian urban cities and villages in recent years, particularly in 2012, is a clear testimony to this danger.
"Several attempts have been made by governments at all levels, to reduce the burden of plastic waste.
"One of such measures is the establishment of plastic recycling plants in 26 selected cities in Nigeria," he added.
In his address, Haruna said that the project had been completed in nine sites where they were now operational.
The permanent secretary was represented by Mrs Olufunke Babade, the Director, Pollution Control and Environmental Health Department in the ministry.
Haruna observed said that other recycling plants were at various stages of completion.
According to him, on completion the plants are expected to handle a significant volume of the plastic waste generated in the country.
"The plants, would among other things, provide employment for Nigerians, attract investment in this sector and provide raw materials to plastics manufacturers.
"It will provide materials for re-manufacturing while at the same time, ensuring cleaner and healthier environment," he said.
According to him, the ministry is keeping up with international best practice and the Federal Government's transformation agenda, to establish a programme for the phasing-out of non-biodegradable plastics in the country.
Several countries have adopted measures to reduce the production and use of plastic materials by the imposition of taxes, fines, restriction or outright ban of shopping bags.
The countries include South Africa, Taiwan, Kenya, Bangladesh, Mecedonia, China, Hong Kong, Denmark, Germany, India, Italy, Mexico and United Arab Emirates, among others.