Imo: The Story Of Okorocha's Betrayal, By Agbaso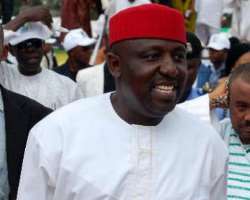 Economist and politician, Chief Martin Agbaso is one of the leading lights of politics in Imo State. He was the governorship candidate of the All Progressives Grand Alliance, APGA in the 2007 gubernatorial elections following which he made claims of victory. Agbaso who passed over the 2011 contest in favour of Owelle Rochas Okorocha in this interview faults the actions and attitude of Governor Okorocha especially in the controversial impeachment of his own junior brother, Sir Jude Agbaso as deputy governor. Excerpts:
The accusation

If you recall in the third week of March this year, my brother, Mr. Jude Ikechukwu Agbaso then deputy Governor of Imo state, was accused to have received N458 million bribe from a Lebanese contractor.
Then, I in very clear terms said that my brother had nothing to do with the money that was alleged to have been taken as bribe money.
It was Rochas Okorocha who approved the contract, awarded it, paid the said contractor N1.3 billion of Imo State money without due process, without even an award letter or any form of advance payment guarantee. So the curious thing at the point was, why would a man who did all this, who got all the benefits that were unprecedented from the governor, go to the deputy governor who was away in India on official assignment, and give him a bribe of almost 40% of the money collected?
That didn't make sense to me. And I said that we as a family would do every thing humanly possible to get to the crux of the matter; we would do everything to find out who took this money, where the money is domiciled and who the beneficiaries we.
Last week, the news broke. EFCC, after putting us through grueling, painful, eight months of investigation finally cleared my brother or any Agbaso for that matter of any wrong doing, of any involvement whatsoever in the alleged bribe scandal. Again, this man who went to the Imo state house of assembly and said to them: "I am a Lebanese journey man, criminal contractor. I have taken 458 million naira of Imo state money and given to the deputy Governor."
They kissed this man and told him to walk away. A man who said: "I have committed a crime against this state, against this nation," they turned around and let him walk away, and began hunting a deputy governor who knew nothing.
Okorocha's beef He said that I, the deputy governor's elder brother, tried to impeach him, so he was trying to retaliate. Later on, he said that as long as Jude Agbaso remained the deputy governor, his life was at risk, that Agbaso could kill him.
This is someone whose deputy governor was impeached, someone who got into office on the same ticket as you, was impeached in the most brazen manner, malicious and mischevious manner, in a show of shame that this country had never seen before.
Before the impeachment panel could even sit to look at the papers, a report had been sent to the House of Assembly, before the House of Assembly could finish the process, a deputy governor nominee had been selected. Before the man could say Jack Robinson, a new deputy Governor was sworn in and yet he said he didn't know anything about it.
Agreement on one term

There has been a catalog of anomalies committed by the administration of Rochas Okorocha. They are all documented here. You are just determined to destroy my name in the eyes of the Imo people and of Nigerians. You had an agreement with me that you were going to be governor for four years and we both signed this agreement witnessed by the national chairman of APGA.
And you made this pronouncement in churches, in halls, in stadia, everywhere you said to people that you had an agreement with Martin Agbaso that you would be governor for one term, and after that the governorship would go to Owerri Zone who rightfully should produce the next governor.
Instead of doing that, you're looking for a way to tarnish my image. But it's not going to work because there is a God out there who rules in the affairs of men and women. You can't continue to mislead the people, and lie your way through life as if it's business as usual. Rochas Okorocha, it is no longer going to be business as usual, every step you make will be checked.
On EFCC Clearance of Jude Agbaso

For the first time in this country, somebody was accused of something and the person wrote to EFCC, ICPC to come and investigate him. He said: "If you find me guilty, jail me. But if you find me innocent, say it so I can clear myself. Now the job of EFCC is to investigate the matter. When they are through with investigation, if they find you wanting on any of the allegations, then they take you to court for prosecution.
EFCC has concluded this investigation and found nothing. The money was said to have been given to you as bribe was lodged in two accounts, one in Dubai and one in Lebanon. We know where these monies are. EFCC has confirmed that he did not commit the crime. Joseph Dina himself has said in a written statement that he did not give him bribe. If Jude Agbaso committed any crime, EFCC would be prosecuting him in court.
Apology to Ndi Imo

First of all, I owe the people of Imo state a big apology. I was misled by Gov. Rochas Okorocha. I did not know his antecedents before I went into an agreement with him. By everything he has done in Imo state, he has shown that he is a person who does not honour his word.
What I saw was a philanthropist who trains other people's children. And I believed that if he could do that, when he gets into a position of authority, our people would be better off. Everything I did was to put Imo State forward.
Because I was already in court for three and half years, fighting a legal battle over elections I won in 2007, I was not prepared to go into an election in 2011. This guy came and with his normal talk-talk I thought we had a good candidate. Please Ndi-Imo, I am sorry for bringing this man. He brought himself and I helped him. I thought it was the best thing to do at the time. But that is the limit of a human being. I could not see tomorrow.
Now, he is saying that he (Jude Agbaso) was incompetent. How can you say that a man is incompetent when his boss, the governor was the one who brought the contractor, paid him, awarded the contract without any advance payment guarantee or letter of award. This money, N1.3bn of Imo State money that is still at large was not paid through the ministry, but on the directive of the governor, issued (through) to the principal secretary to the governor, commissioner for finance and to the accountant general.
This payment did not go through the ministry at all. By the time the commissioner who was the deputy governor knew what was happening, the money had been paid. In fact, the first N200 million that was given to that man was paid in cash. So how do you say that such a man is incompetent?
Apology from Okorocha
I expected an apology from Rochas Okorocha? Yet instead of apologizing to someone who invested heavily in his campaign, and to the young man who has worked with you, you try to destroy him. Instead of apologizing, you're even undermining the letter which exonerated him.
The most shameful thing that has come out of Rochas Okorocha's mouth is that he paid Martin Agbaso for APGA ticket. I gave Rochas Okorocha my word that I would help him become governor. I funded his campaign. I brought people to give money. I don't want to mention their names so I do not embarrass them. How can someone who he is now owing money for funding the campaign be the same person he gave money for ticket?
Everybody saw me canvass through every village canvassing for votes. My house was the command headquarters for the elections, everything was done in my house. What thank you do I get? You try to destroy my family name. And you see him singing church choruses and quoting the bible. When it's convenient, he quotes the Qu'ran. Who is he to keep trying to mislead Nigerians and assume that we are foolish?
Disclaimer:

"The views/contents expressed in this article are the sole responsibility of the author(s) and do not necessarily reflect those of The Nigerian Voice. The Nigerian Voice will not be responsible or liable for any inaccurate or incorrect statements contained in this article."