24HRS WITH UGO STEPHENSON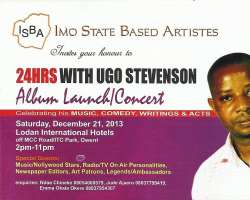 Imo State Based Artistes (ISBA) is celebrating one of their finest, Ugo Stephenson a.k.a Ndaa Chineke.
It is an awesome celebration of Ugo Stephenson's music, comedy, writings and acts. Scheduled for Saturday, December 21, 2013 at the serene Lodan International Hotels, Owerri, the show will start by 2pm till dawn.
Seen as the last best act of 2013, it is going to showcase the NMA's best highlife artiste of 2008, and National literary nominee, 2009, Ugo Stephenson's hit tracks and books. The Pride of the Living (a play) and facilitator of All Igbo Music Awards (Ekwe Award) Ugo Stephenson is an embodiment of comedy, brain, and music. He has been in the forefront of empowering Igbo musicians, by organizing fund raisings to lift them up.
This show tagged, 24hrs with Ugo Stephenson will include Album lunch, and concert. Interestingly, the night will witness the appearance of Special Guests from the music and Nollywood industry, radio and television On Air Personalities, newspaper editors, art patrons, legends and ambassadors.
The artiste has promised to create a spectacular entertainment night of quality, such that has never been seen in the Eastern Heartland before.
24hrs with Ugo Stephenson is promoted to assuage your desire for quality entertainment. Keep a date with Ndaa Chineke.