NB stock falls by N2 as its Q3 result disappoints investors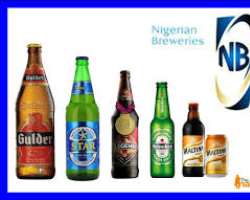 Mixed reactions trailed the results announced by Nigerian Breweries Plc and UACN Property Development Company Plc (UPDC) for the third quarter (Q3) ended September 30, 2013 at the stock market yesterday. While NB Plc recorded marginal growth in profit, UPDC posted improved performance that has raised investors' hopes for improved dividend at the end of the year.
Consequently, the share price of NB Plc fell by N2 or 1.1 per cent to close at N174 per share while that of UPPDC rose by 4.6 per cent or 78 kobo to close at N17.47.
The results made available by the Nigerian Stock Exchange (NSE) showed that NB Plc ended the period with a revenue of N190.3 billion, up marginally by 5.3 per cent from the N180.8 billion in the corresponding period of 2012. Profit before tax (PBT) recorded a lower growth of 3.7 per cent from N37.2 billion to N38.5 billion, while profit after tax (PAT) stood at N26.8 billion, showing an increase of 6.2 per cent compared with N25.2 billion in 2012.
On the other hand, investors were impressed with the over 200 per cent growth in profit announced by the real estate development firm. According to the results, UPDC posted a  revenue of N10.1 billion, up by 30 per cent from N7.78 billion recorded in 2012.
PBT soared by 233 per cent to N2.9 billion, from N869 million the previous year. However, a higher tax charge reduced the PAT growth to 140 per cent. As a result, , the company ended the period with a PAT of N1.9 billion, compared with N800 million in 2012.
Meanwhile, trading remained bullish with the NSE All-Share Index rising 0.11 per cent to close at 37,408.56, while market capitalisation added N13 billion to  close higher at N11.952 trillion.
A total of 26 stocks appreciated in value compared with 24 that dipped. Nestle Nigeria Plc led the price gainers with N40 to close at N1, 050, followed by CAP Plc, which chalked up N4.14 to close at N44.02 per share.