RUMPUS IN THE IMO HOUSE OF ASSEMBLY—As Lawmakers Refuse To Join The Governor To APC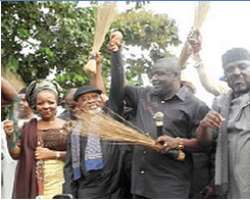 As events leading to the 2015 elections gather momentum, events emerged in the week that there was serious rumpus in the Imo House of Assembly following the refusal of members to join the All Progressive Congress APC.
The report had it that the Speaker of Imo House of Assembly Hon Benjamin Uwajimogu summoned all the House members to a meeting and demanded that they all declare their stand as to who is and who is not joining the Governor in his defection to the All Progressive Congress APC. He made them know that anyone who was not with them; was definitely against them. Majority of the member were said to have rejected the call and stood their grounds that they were not defecting to the APC.
Upon his failure to achieve the desired result, the Speaker was said to have put a call to the Governor informing him that majority of the lawmakers had refused to heed to his demand that they defect to the APC. The Governor thereby demanded that all the House members be brought before him in a meeting at the movement House to see if he could use his political dexterity and executive weight to move the reluctant members.
At the Government House, the Governor was said to have made a passionate and emotionally ladened speech to the lawmakers. The governor urged the legislators to move with him to APC as he would guarantee them a safe ticket to their various aspirations in 2015. He warned them that he will not carry anyone of them who failed to move with him to APC.
In his words, the Governor told them that "In Catholic Church, they usually announce that the service is for all members but the Holy Communion is for those who are prepared", implying that those who didn't join him to APC will not be carried substantially along in his government.
After the speech, the Governor called on them to declare their intentions before him, one by one so that he knows those who were with them. It was a case of if you are not with me; then you are against me.
After his speech the following persons were said to have signified their intention to move with the Governor. 1. Pharmacist Donatus Ozoemena (Oru West), 2. Hon. Mike Ndubuaku (Orlu), 3. Acho Ihim (Okigwe), 4. Chino Keevin Obioha 5. (Njaba), 6. Adaku Ihuoma 7. (Ahiazu), 8. Ikenna Emeh (Isu), 9. Luke Chukwu (Ohaji/Egbema), 10. Ikechukwu Amuka (Ideato South), 11. Innocent Ekeh (Owerri West), 12. Ugonna Ozuruigbo (Nwangele).
Others were said to have remained resolute and told the Governor that they were not joining him at the APC. Those who stood their grounds are; 1. Pat Ngozi Ekeji (Aboh Mbaise), 2. Eudora Igwe (Ideato North), 3. Simeon Iwunze (Isiala Mbano) 4. Kingsley Dimaku (Ehime Mbano), 5. Victor Ndunagu (Mbaitoli), 6. Samuel Anayanwu (Ikeduru), 7. Greg Okemili (Oru East), 8. Obioma Ekennia (Ezinihitte Mbaise), 9. Stan Dara (Orsu), 10. Robertson Ekwebelem (Onuiomo), 11. Celestine Ngobiwu (Obowo). The report said Dan Ikpeazu Owerri North, Victor Mere Owerri Municipal and Obinna Okwara Nkwere differed saying they needed more time to consult their constituents before making a definite decision. Hon Stan Dara, Samuel Anyanwu and Simeon Iwunze were reported to have told the Governor in clear terms that they were not joining APC for any reason in the world.
The development however did not go down well with the Governor who felt disappointed that the men could resist his advance despite his persuasion to get them move with him in block.
However, not long after the meeting Hon Greg Okemili who represents Oru East State Constituency in the Imo House of Assembly addressed a press conference wherein he made it clear that he is a member of APGA and would resist any attempt to move him to APC. He reiterated the fact that APGA gave him the mandate to represent them in the House of Assembly. He said he could not abandon the party that helped him win election to join the APC.
Hon. Okemili went further to condemn Governor Okorocha's penchant for using and dumping people he used in the past to realise his objectives without settling them. He stated that since he became a lawmaker, he has not enjoyed anything the government is doing, and wondered why he should join the APC when it won't change anything.
He, however, warned that no one should undermine his Oru East Constituency. When asked about the recent EFCC letter clearing Jude Agbaso, he said EFCC is a body established by law and have their way of working. He stated that truth is something that cannot be hidden."