Defection: Three weeks after, New PDP senators sit on the fence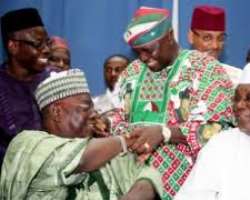 Three weeks after a political earthquake which resulted in the defection of a splinter group in the Peoples Democratic Party (PDP) which comprises five governors to the All Progressives Congress (APC), senators within the group have remained undecided.
Whereas the vast majority of Nigerians expected senators within the group to immediately follow the footsteps of their governors, the reverse has been the case as the lawmakers have continued to sit on the fence, maintaining their seats in the PDP majority camp. They were also said to have declined to attend PDP caucus meeting while also staying away from the APC caucus meeting.
As things stand today in the Senate, it seems better to classify the New PDP senators (except few who have categorically stated that they would remain in the PDP no matter what happens) as neutral lawmakers who neither belong to PDP nor APC, while also bearing in mind that the New PDP no longer exists as a faction of PDP, following the November 26 defection of five governors along with the group's chairman, Abubakar Baraje.
The five governors who defected to APC were Dr. Rabiu Kwankwaso (Kano), Alhaji Aliyu Wamakko (Sokoto), Alhaji Abdulfatah Ahmed (Kwara), Alhaji Murtala Nyako (Adamawa) and Mr. Rotimi Amaechi (Rivers). Two governors within the group, Alhaji Sule Lamido (Jigawa), Dr. Babangida Aliyu (Niger), opted out of the defection plan and vowed to remain within the PDP.
That the New PDP senators can aptly be described as fence sitters or neutral politicians who do not necessarily belong to any political party at least for now is exemplified by the recent comment of Aliyu that New PDP is now history.
This means that the New PDP does longer exist as a faction within the PDP following the November 26 defection, yet many of the senators have refused to align with PDP neither have they summoned courage to join the APC.
This brings reminiscences the  December 4 episode, when the National Chairman of PDP, Alhaji Bamanga Tukur, held talks with PDP caucus in the Senate. No fewer than 20 of the 22 senators stayed away from that meeting even though quite a number of them were available that day. Yet the decision to shun the last PDP caucus meeting with Tukur does not imply that they have aligned with the APC caucus.
Last week Wednesday, when APC caucus in the Senate also met to express concerns over the $49.8 billion that is allegedly missing from the account of the Nigerian National Petroleum Corporation (NNPC), no single New PDP senator was present, thus raising a rhetorical question, where they do they really belong?
However,  a member of the group, Senator Abdulmumini Hassan (Jigawa South-west), who was among those who shunned talks with Tukur on December 4, said they still remain members of the PDP since none of them has formally written a letter of defection to the Senate President, Senator David Mark.
'All I know is that we are all PDP members because nobody had officially declared or written to the Senate President that he/she is defecting. But as for me, I remain a loyal PDP member. I will remain there to fight the injustice in the party,' Hassan declared.
But if Hassan remains a loyal PDP member, why did he join others to shun talks with Tukur? He was swift to answer: 'I did not attend the meeting with Tukur because personally, I can't attend a meeting with someone who is illegally chasing people out of the party. Politics is about people. So, the chairman is supposed to see that. But this man (Tukur) has refused to see that,' he added.
Hassan who described himself as a committed member of New PDP, also accused Tukur of destroying the internal democracy in the party which he said the National Chairman ought to uphold by virtue of his position, insisting that Tukur has not made good use of the mandate given to him.
Two other senators, Simeon Ajibola (Kwara South) and Ahmed Maccido (Sokoto North), like Hassan have  also declared that they would not defect to APC but would remain in PDP no matter what happens. But unlike Hassan who also expressed his commitment to New PDP and yet pledged to remain in PDP, Ajibola said he should be counted out of New PDP.
Members of the group who might remain in PDP even when the chips are down include: Senator Bello Gwarzo (Kano North), Senator Bindowo Jubrilla (Adamawa North), Senator Abdulaziz Usman (Jigawa North-east) and Senator Danladi Sankara (Jigawa North-west)).
Others expected to move but who have remained undecided are Bukola Saraki (Kwara Central), Senator Abdullahi Adamu (Nasarawa West), Senator Magnus Abe (River South-east),Senator Wilson Ake (Rivers West), Senator Shaba Lafiagi (Kwara North), Danjuma Goje (Gombe Central) , Senator Aisha Alhassan (Taraba North), Ali Ndume (Borno South), Ahmed Zannah (Borno Central) and Umaru Dahiru (Sokoto South).
Others are Ibrahim Gobir (Sokoto East),  Garba Mohammed (Kano Central),  Isa Galaudu (Kebbi North) , Ahmed Alkali (Gombe North) and Hassan Barata (Adamawa South).
Source: THIS DAY