WINDSTORM DISPLACES 3,000 FAMILIES, 300 HOUSES IN C.RIVER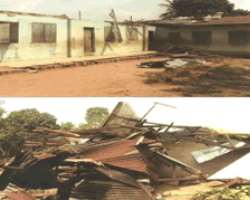 Huricane Yakur
Windstorm displaces 3,000 families, 300 houses in C.River
From JUDEX OKORO, Calabar
Tuesday, March 9, 2010
windstorm wreaked havoc in some communities at Iko-Asai in Akamkpa and Ekori in Yakurr Local Government Areas of Cross River state,displacing over 3,000 familes and destroying 300.. Investigations by Daily Sun revealed that the storm was so heavy that many houses were shaken to their foundations while trees including economic trees were either pulled down or cut off from their stems. Most of the economic trees affected are coconut, palm, pears, banana and plantain.
When Daily Sun visited the Ekori community, it was discovered that many of the victims, particularly women and children, are exposed to harsh weather as they are presently sheltered in makeshift rooms and huts. Further checks showed that public and private schools were also seriously affected, forcing students and pupils to study in un-conducive environments; disrupting teaching and learning process while some private schools have been forced to close down.
Carrying out an assessment of the disaster, the Director-General, State Emergency Management Agency, Mr. Vincent Aquah, MON lamented the spate of windstorm disasters in recent times in the State which has destroyed property worth millions of Naira. This he attributed to the phenomenon of global warming.
Sympathizing with the victims, the Director-General commended the magnanimity of friends, neighbours and relatives for displaying the humanitarian gesture of the African culture by accommodating the displaced.
The Director-General who was represented by the Assistant Director in charge of information in the Agency, Mr. David Akate observed that trees that could have acted as wind breakers were lacking and called for the planting of ornamental trees to reduce the state of vulnerability.
Mr. Aquah assured the victims of the State Government's concern to their plights, stating that efforts would be intensified to provide succour to them.
In a remark, the Obol Lopon of Ekori, Obol Donatus Ibor Ofem described the disaster which started at about 11.00pm on Thursday February 23,2010 and lasted for about 45 minutes causing unprecedented panic.
He described the violent wind as unfortunate and said he had visited the area to assess the rate of damage, advising people to constantly refurbish their houses in order to withstand such natural disaster in future.
He also said there was a need for people to be environmentally conscious by checking activities that could aggravate storms and erosion like deforestation.
The Obol Lopon commended the State Emergency Management Agency, SEMA for its prompt response to the disaster and hoped that relief to the victims will not be delayed.
A visually challenged man, (60yrs) Chief Moses Ekpe whose home was substantially destroyed said that when the roof of his house was suddenly uncapped with a loud bang he was in a confused state under the rains in his bedroom not knowing where to go to or what to do.
Other victims who spoke with our correspondent appealed to the State and the Federal Governments to promptly relief them with building materials to enable them rehabilitate their houses.