MOTHER AT 44 SAYS: I PRAYED FOR ONE, BUT GOD GAVE ME TWINS, NOW I WANT TRIPPLETS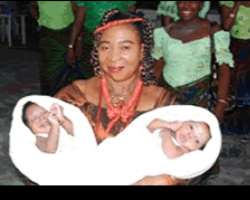 Mother at 44 says: I prayed for one, but God gave me twins, now I want tripplets
From EMMANUEL OGOIGBE, Warrri
Tuesday, March 09, 2010
To High Chief (Mrs) Vero Smooth, the joy of being a mother at 44 is unlimited even as she openly challenged God to grant her triplets in the next few months. Vero, as her admirers in Warri and the environs fondly call her, narrated how she literally passed through the eye of a needle before giving birth to twins who she named after herself and her kind hearted mother- in-law.
'I have been married for years to my husband High Chief Tunde Smooth before God smiled on me like the Biblical Hannah, the mother of Samuel on January 8, 2010', said the nursing mother amid tears of joy.
Vero who is still basking in the euphoria of motherhood for the first time in her life, confessed that she passed through the shadow of death during delivery but God saved her.
'Initially, I pleaded with God to grant me just a child in order to shame the devil but to my surprise, God Almighty and most merciful gave me two bouncing baby girls.
'But, I am now begging God to continue to show me his favour and blessings by giving me triplets in no distant period', said the joyous mother.
She recalled that people were scared when she took in and they started running away from her with the belief that she must have been struck by the gods of Gbaramath kingdom, aftermath of the mayhem that pervaded the area then, but they did not know that she was pregnant, adding that the first experience was very difficult.
In her desire to have at least a baby, she went to London with her husband where she stayed for four months but all to no avail.
'Following the futile attempts, we later opted for Germany for transplanting and stayed there for two months. While I was there, the doctor who attended to me later declared that reports showed that all the medical tests performed on me revealed that I had fibroid and suggested that I should be operated upon. Immediately I heard this, I started praying that God should perform his works in my life and that operation should not be my portion,' Vero said smiling.
She said after the operation was carried out, the doctor said it was no longer fibroid; rather, something else was removed from her womb
'After the operation, the doctor told me that if lam lucky, I will not come to Germany for transplanting.
'When I went back to Germany on July 22, 2009, as soon as the doctor saw me he hugged and congratulated me and said I was pregnant and, I have to come back to Nigeria sometime in September last year. For me I will like to have at least five children God willing and I know that the Almighty God will do it.
'However, my delivery was successful but the only hitch was when the placenta refused to come out but miraculously, God delivered me and the placenta came out at last.
'Before I gave birth to my children, I vowed that if God can make me mother of children, I will do thanksgiving in twenty-one churches to testify the goodness of God in my life. I am indeed very happy that by his grace I am now a mother and I can stand tall in the midst of mothers. For me, I have laudable plans for my children. The senior girl whose name is Tamaraye Bika Vero Smooth who I named after myself will be a lawyer while the other child, named Dortimiyei Mary Smooth who I named after my mother- in-law will be a medical doctor God willing', she said.
Testifying to the generosity of Mrs Vero Smooth, an Ijaw from Ojobo community, Mr Siasibu Abrahaun, said it was her generosity that brought twins to the woman.
Mr Abrahaun whose wife recently gave birth to a set of triplets said Vero has been responsible for the upkeep of his children.
'Initially, she gave us fifty Thousand Naira and since then, the woman has been supplying our needs, including the feeding of the triplets', remarked the benefactor, who said he witnessed the pregnancy and delivery of the twins.
However, a relation of Mrs Smooth described the delivery as divine intervention, adding that God actually smiled on her and she subsequently had two baby girls.
'It has been a long time we have been praying that God should bless her with the fruit of the womb and I thank God for answering our prayer', said the lady who assisted and witnessed the delivery of the twins in Port-Harcourt.
Another relation of Mrs Smooth who simply gave her name as Tessy, said a lot of people were happy that her sister had children at last.
'When she delivered, we praised God and pleaded that the Almighty should continue to open the door of blessing for my sister who has been praying fervently for the fruit of the womb'|, said Tessy.