TERROR LIST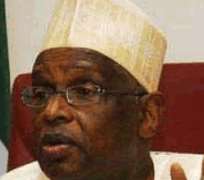 Terror list
Nigeria's inclusion by US pre-dated Abdulmuttalab's action -Jibril Aminu
From Taiwo Amodu, Abuja
Tuesday, March 9, 2010
Former Nigeria's Ambassador to the United States of Americ (USA) and Senate Committee Chairman on Foreign Affairs, Prof. Jibril Aminu has faulted the listing of Nigeria as a country of interest by the US in its war against terrorism.
Speaking with Daily Sun in Abuja, the former foreign affairs minister submitted that America had formed a jaundiced opinion about Nigeria and its government, even before the unfortunate action of Farouk Abdul-Mutallab.
The Adamawa Senator gave instances of negative comments about the democratic experiment in Nigeria, the fight against corruption and the visit of the American president to Ghana, when Nigeria was excluded, as evidence of open declaration of hostility towards the Nigerian government .
''From his inaugural speeches, addresses and innuendoes about our electoral system and fight against corruption, it was clear that he has an axe to grind with us as a country'', Aminu told Daily Sun
Excerpts :
Mutallab's bomb saga
'The point that is being missed by America is that this young man, Farouq Abdulmutallab was away from Nigeria most of the time. He was not trained in Nigeria, and he did not carry whatever was found buried in his pants from Nigeria. He was supposed to have spent just about 27 minutes at the Murtala Muhammed Airport, Ikeja before moving on. So, whatever he was found with was what he brought into Nigeria from where he boarded a flight. Recall that he first made a stop-over at Amsterdam and from there he proceeded to the US. So how on earth could anybody link the entire incident to Nigeria?
Also, the boy's father did what most fathers would not have done by drawing attention to the aberrant behaviour of his son. For me, Nigeria ought to come in for accolades.
Since the incident of 9/11, there was no single decision or platform that seeks to promote the war on terror that Nigeria has not entered into. So why on account of this particular incident must we be classified along with countries like Yemen, Somalia, Afghanistan, that are known to have provided enough grounds for the training of terrorists? This is unfair and unacceptable.
When you compare and contrast Nigeria with countries like Britain, a lot of the people who had allegedly attempted to attack the UK are all from London. So how can America justify the inclusion of Nigeria on terror watch-list when Britain is equally not included?
We have been talking to the American government. We feel that the only way the issue can be redressed is by continuously engaging America through the diplomatic channel and any other media like visiting the US, if the senate wants us to go there.
Yar'Adua's absence, not an issue
Even as many Nigerians insist the vacuum created in the presidency was responsible for the hard position taken by the American government senator Jubril Aminu says it has nothing to do with the stance of the US government
''I do not think it matters whatever level the discussion is held. As a committee, we have been given an assignment by the senate and we have been talking to America. We are looking forward to engaging our counterparts at the US senate. This does not, however, stop anybody from playing a role at ensuring that the problem is resolved.
And by the way, who told you there was no interface between the Nigerian and the American presidents? Even if the President was not available, there was the American vice president and his Nigerian counterpart. And if that did not obtain, America has a foreign minister, just as Nigeria does. Also, in the absence of a foreign minister, there is the national security adviser and there is equally the existence of foreign missions.
Honestly, there is need for America to do a rethink and take Nigeria out of the terror list, in which in my opinion, there is no basis for our inclusion.
This is buck passing
''America has a major share of the blame in the sense that they did not treat seriously the alarm raised by the boy's father concerning his son. President Obama acknowledged this much when he said the lack of response was attributable to system failure. Why did they not follow up the alarm raised by Mutallab's father?
I think sincerely that Nigeria deserved to be commended for doing everything possible to draw attention to what was to come. But they did nothing. But whatever it is, if America sincerely reviews what has happened, they will come to the conclusion that Nigeria should not have been on that list in the first place.
The current situation appears to me as a continuation of the problem Nigeria is having with the Obama administration right from his inception as President. From his inaugural speeches, addresses and innuendoes about Nigeria's electoral system and corruption, it was clear that he had an axe to grind with us as a country. This was followed with his visit to Ghana by openly shunning us.
Obama's behaviour is characteristic of an African where if you want to abuse someone, you go to his neighbour's house to do that so he can hear. That was why he went to Ghana and said all sorts of things about Nigeria, aware that whatever he said there would get to us.
And then from Nairobi, Kenya, his Foreign Secretary, Mrs. Clinton said very unpleasant things about us on her way to Nigeria. Her comments about the stricture around the EFCC and the fight against corruption were exactly not true of the situation in the country.
So against the background of this mindset about Nigeria, we are not surprised that they had to smuggle us into the terror watch-list. There is no way you send a goodwill with a catapult.
America should not treat us like headmaster-pupil relationship. We are a sovereign country and we sure deserve some respect''.
Obj entitled to opinion
The immediate past President Olusegun Obasanjo was recently vilified for throwing the ailing President YarA'dua and the cabal around him to the cleaners for holding the nation to ransom when it was manifestly evident that Yar'Adua could not preside over governance. Aminu says it is characteristic of the former president to get livid, but cautioned that obasanjo should learn to be circumspect, while talking on sensitive national issues
''Analysing former President Obasanjo's comments, you have to consider the setting and context under which they were made. I really cannot say whether he was reading what he said or he just said it ad-lip, but I suspect he was not reading it. It was possible he was responding to a question put to him. I feel strongly that the manner he responded meant he was angry with the way the question regarding Yar'Adua's situation was put to him. Definitely, he must have been offended by the way he was confronted.
However, he needed to be a bit more measured in his response, even though he did not say anything which was not true. But given his close relationship with the Yar'Aduas, I do not think the comments helped very much. Even at that, Obasanjo does not deserve to be nailed to the cross for expressing a point of view''.
North won't fret over Yar'Adua
Except people refuse to come to terms with the reality, otherwise, there is no basis for a dispute over succession. Yar'Adua was not elected alone, but along with Goodluck Jonathan on a joint ticket. Having said this, in the absence of Yar'Adua, Jonathan should act for him in line with the provision of the constitution.
Once this is fulfilled in accordance with the constitution, the party (PDP) can then wait for 2011 during which it can decide to go on with its zoning principle. But for now, the constitution is very clear. As far as I am concerned, there is no need to play Russian Roulette with the issue''.