INTERNATIONAL WOMEN'S DAY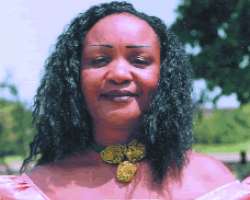 International Women's Day
Our expectations from govts, others - Women
By Christy Anyanwu
Tuesday, March 9, 2010
On March 8, every year, women all over the world roll out the drums to celebrate their global achievements. This year's edition of the International Women's Day (IWD) was not different. It is a global celebration for the economic, political and social achievements of women. This year, the International Committee of the Red Cross is drawing attention to the hardship women endure. In marking the IWD, women and groups took stock.
Daily Sun sought the opinions/expectations of Nigerian women.
Exerpts:
Pastor (Mrs.) Tinu Odugbemi, Executive Director, Head High International
Every year, all over the world, International Women's Day, is celebrated on March 8 to celebrate the economic, political and social achievements of women past, present and future. The day affords the world to know that there can be no peace, progress and enjoyment of fundamental human rights and freedom without the active participation, equality and development of women. Also, it serves as an occasion for women to review how far they have come in their struggles. Similarly, it is a time to recognise the contributions of women to the strengthening of international peace and development of women. There is a global theme chosen every year but each country and group can choose their own themes.
This year's theme is: 'Equal rights, equal opportunities, Progress for All'. It is quite apt as gender equality and the empowerment of women are central to all other Millenium Development Goals.
In Nigeria, much still needs to be done on paving the way for equal rights and opportunities for all for without these, the nation would remain without much progress. In all spheres of life, it is apparent that the nation needs to have the active participation of all groups. Women make up half of the nation's population, therefore, it is logical that they be fully involved in decision-making, implementation of policies and in contributing their own quota in all sectors in the country.
We at Head High International congratulate Nigerian women and all women living in the country. But we urge governments at all levels to seriously consider giving the marginalized people equal rights and opportunities to education, good nutrition, justice, welfare, care, empowerment, funds, and position. We ask that government should seek ways of ensuring widows, single parents, orphans and children on the streets are neither neglected nor abandoned.
Mrs. Nkiru Ifekwem, Research Fellow and Gender Expert
March is the month of events for women all over the world. Hundreds of events occur not just on that day, but also all throughout March to mark the economic, political and social achievements of women.
Based on the global theme, organisations, government and women groups around the world chose different themes to reflect their local gender issues
Though this is a global theme, it is completely up to each country and group as to what appropriate theme to select for the year. The UN first celebrated International Women's Day in 1975. There are different themes for different years, for example in 1996, a year after the Beijing conference, the theme was 'Celebrating the past, planning for the future', in 2204, to emphasise on the high risk of women to HIV / AIDS infection, the theme was 'Women and HIV/AIDS.
Last year's theme was 'Women and men united to end violence against women and girls.'
In Nigeria, though religious institutions celebrate Mother's Day in March, awareness is still low and the Ministry of Women Affairs should create more awareness of this date up to the local government level. Women should be sensitised.
Far from being helpless victims, women are resourceful, resilient and courageous in the face of hardship.
Ada Agina-Ude, Executive Director, Gender And Development Action (GADA)
International Women Day is a day we draw attention to the struggles of women all over the world. We celebrate our achievements, we also make our demands, draw attention to the shortcomings and the areas that need to be addressed. It's a wonderful day and I think it's a wonderful idea. All women of goodwill and men too should celebrate women's day. Women have come a long way since the days of the suffrages. There's something to celebrate, but there are still quite a lot to be addressed, especially here in Nigeria. The Committee on the Status of Women (CSW ) is on now in New York to review the decisions taken at Beijing, the 13 critical areas of concern that were identified at Beijing. This years meeting is called 'Beijing course 15', that is 15 years after Beijing in 1995. We in Nigeria, we looked at the performance of government and non government factors, private sectors, NGOs, we looked at government report, we also add our own views to it, where necessary we give them more information.
Mrs. Blessing Ordor, President, God's Bank
Observing the day is a good idea. However, a lot still needs to be done to accomplish its lofty goals. The activities should shift from fun to fulfilment, organizing programs and activities that are focused on tackling specific problems. Women are still facing several challenges like economic pressure, lack of care, illiteracy, neglect, male chauvinism, unnecessary victimization, intimidation, ignorance, wife battering, indecent assaults, lack of economic empowerment etc.
Thank God for the little we have done so far but we can do more if we are focused and united. We need the help of God, and I believe a national prayer rally for women will not be a bad idea. Women must rise and shine, this is our time and we must rise from obscurity to limelight. I look forward to a day God will enthrone a woman as the president of this country. That time is near. Let us not also forget the needy and the less-privileged. A day to remember them is also necessary.
Lion Bintu Fatima Tinubu, Businesswoman
It's worth celebrating. When you train a woman, you train a whole nation. If the women were to be given a chance, we would have done better. We would have been able to turn this world round. You see what we are seeing nowadays, the men are doing their best, but women could have done it better. Before, you say what a man can do a woman can do it better but now, what a woman cannot do you forget it. Nobody can do it anymore. If we have an opportunity and ask the men to give the women a chance, you would have seen more development in the whole wide world. You can see the few places where we have the women as president, they are doing so well and I recommend strongly that the women should be given a chance.