Turkish Airline commences flight operations into Kano Airport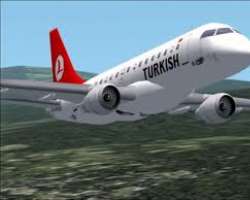 Turkish Airlines has begun scheduled flight operations into Mallam Aminu Kano International Airport, Kano.
The airlines' inaugural flight will arrive the airport at 1.00 am local time. It will also provide additional services at the Murtala Muhammed International Airport, Lagos, while operating the Kano flight four times a week at the initial stage.
Emirate and Turkish Airlines got Federal government's approval for flight operation to Mallam Aminu Kano International Airport, Kano last November.
The two airlines joined other airlines like Middle East Airlines, Egypt Air to airlift passengers from the city.
Commenting on the commencement of the Turkish Airline operation into Kano Airport, the Minister of Aviation, Princess Stella Oduah, said she  had worked tirelessly to actualise this dream of bringing more international flight to Kano.
She promised to still work more to attain higher goals for the sector, in line with President Goodluck Jonathan's transformation agenda in the aviation industry, which aims to encourage more foreign airlines to operate into Nigerian airports.'
Turkish Airlines was founded in 1933 with a fleet of 5 planes and is a member of Star Alliance. At present, it has a fleet of 233 planes (both passenger and cargo) and operates scheduled flights to a total of 243 destinations, that is, 201 international and 42 domestic . Emirate is expected to resume its own operation into Kano Airport soon. The resumption date is however left for the airline.