OBA OMEGA,AFRICAN CONTEMPRARY MUSIC KING AND ORIGINATOR OF MOTOR BIKE DANCE STEPS.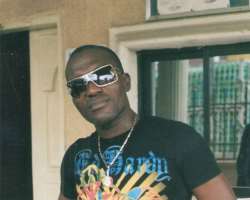 Emmanuel Amachree,popularly known as Oba Omega,A Native of Buguma in Rivers State,is a Song Writer,Muscian,Talent Hunt Coach and the Managing Director of Boomerang Nite in woji town in Port harcourt.He is an African Contemprary Music Star with his Creation of Motor Bike Dance Steps, in this interview with Eric jeminiwa, He Reveals How His Musical Career which Began in 1996, Have Taken Him Round the West African Coast .
Who is Oba Omega?
My name is Emmanuel Amachree,from Buguma in Rivers State.Am a Kalabari man.
How did your musical careertake off?
I began proffessionally in 1996 in Ivory coast with a style called Ragga Muffin, i was the only artiste doing that in the whole of ivory coast.I released my first Album in 1997. But i had to relocate to Ghana in 2000,after the war broke out in ivory coast, i lost Everything i had including my Nite Club. In Ghana, i started all over again with the release of my second album Entittled" Motor Bike" and i also created the motor bike dance. I was in Ghana for six years before coming back home to my root nigeria in 2006.
Why did you record your latest track "This is my identity" ?
It is a tribute to the legend Oliver De Coque. I used the song to Express Myself, Stampling My Foot Print with my identity which is motor bike dance.ThankGod, the song have become an instant hit and it is widely Accepted with the Bike Dance Steps.
Who is your role model?
I grew up listening to Jim Rex lawson, his music have been an influence on my style of music. Also my mum was a choirester, i believe i took to music after her.
How do you see piracy?
It is killing, its a scourge which is Affecting the industry including the Artistes and the Distributors. I strongly Believe that Nigerians Have a Great a Role in Stopping Piracy, we should stop Buying Pirated cds, Mixed cds and insists on Buying only Original cds.
What do you do outside music?
Well, my first love is music,which i believe is a tool that can be used to attain lasting peace in Nigeria.Am the Managing Director of Booomerang Nite club and Also a talent hunt coach.We help to discover talents and Nurture them into Stars.
What are you up to now?
Presently,Am on a musical tour of various locations bring my music and motor bike dance steps down to the people.
Your final word?
Thanks to you all my fans and the entire media, both print and Electronic outfits.
Story by Eric Jeminiwa