FEC okays N40.2bn for National Assembly complex renovation, third phase construction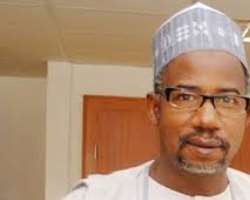 The Federal Executive Council (FEC) has approved N40.2 billion for the construction of phase III of the National Assembly complex and renovation of the first and second phases of the complex.
The Minister of the Federal Capital Territory (FCT), Sen. Bala Muhammed, told State House correspondents after the weekly FEC meeting on Wednesday in Abuja that the project was under the Federal Government's National Priority Programme.
He added that the project would involve the renovation of the two chambers of the National Assembly.
'We are going to close down the two chambers of the National Assembly for a period of 12 months and we are lucky we have already provided large committee rooms that will be used during the period for the parliament to continue its work.
'The contract is for N40.2billion and it will take 40 months to complete.'
Muhammed stated that the work concerning phase III of the complex would involve the construction of a library, budget office, printing press, clinic, restaurants, banquet hall, places of worship and plenary hall (auditorium).
He explained that at the end of the project, television/radio/press facilities, fitness room, administrative offices, technical rooms, and meeting rooms would be available while two of the chambers would be renovated.
Also addressing the correspondents on the outcome of the meeting, chaired by Vice President Namadi Sambo, the Minister of Information, Mr Labaran Maku said FEC approved N3.6 billion for the purchase of an office building for the Petroleum Equalisation Fund Management Board.
According to him, the building is located at Plot 542, Cadastral Zone, B09, Kado District on the Mabushi Expressway, Abuja.
He said the board had been operating from rented quarters since 1998.
He also disclosed that the council approved the establishment of National Petroleum Laboratory in Owerri, Imo, to serve as a testing outfit for all petroleum products imported to the country.
He said the laboratory would also help to detect products being stolen from Nigeria or those that could pollute the Nigerian soil.
Maku stated that the meeting considered the draft bills on the metrological sector and that of National Migration Policy.
The minister said the meeting also dedicated its first session to paying tribute to the late former South African President, Nelson Mandela, where the council members unanimously stressed the need for Nigerians to be guided by unity and development of the country in politicking. (NAN)