Army council promotes 27 Brigadier-Generals, 75 colonels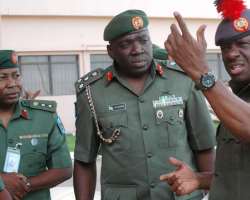 The Army Council has approved the promotion of 102 senior army officers.
A statement signed by Brig.-Gen. Ibrahim Attahiru, Director, Army Public Relations, said on Wednesday that 27 Brigadier Generals were elevated to the rank of Major General and 75 Colonels were lifted to the rank of Brigadier General.
The statement listed Brig.-Gen. Emmanuel Atewe, Commander, Guards Brigade; and Brig.-Gen. Chris Olukolade, Director, Defence Information, as among the 27 officers who have been promoted to the rank of Major General.
Also promoted to the rank of Major General were the Defence Adviser, Nigerian Mission to the United Nations in New York, Brig.-Gen. Lincoln Ogunewe; Acting Director, Military Intelligence, Brig.-Gen. Letam Wiwa; as well as Brig.-Gen. Adamu Abubakar, the Commandant, Nigerian Army School of Military Police.
It said those promoted to the substantive rank of Brigadier General included Col. Ali Nani of Training and Doctrine Command, Acting Commander, 37 Brigade; and Col. Okoi Obono, Acting Commander, 21, Brigade.
Others were Col. Ibrahim Yusuf, Col. Olufunmilola Soleye of Ministry of Defence, and Col. Adamu Jalingo of Department of Civil Military Affairs, Army Headquarters, the statement said. (NAN)