Justina Mutale Joins Panel Of Judges At The World Finals Of The Exquisite Face Of The Universe, Lagos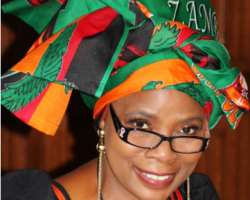 Lagos, Nigeria: African Woman of the Year 2012, Justina Mutale who is also Founder/CEO of POSITIVE RUWNAY: Global Catwalk to Stop the Spread has been announced as a Judge at the World Finals of the Exquisite Face of the Universe International Model Competition, which will takes place at EKO Hotels & Suits, Victoria Island, Lagos, Nigeria from 12th -20th December 2013.

The Exquisite Face of the Universe was founded 5 years ago by Ghanaian, Evelyn Addy-Sackey to promote African culture to the outside world, with charitable objectives for under-privileged children to benefit from the proceeds of the event.
"We recognize our responsibilities to society and, in particular, to the local and international communities in which we operate. We are committed to enriching the advocacy of propagating the message of helping the needy and street children across the globe", says Ms Addy-Sackey, Founder & CEO of Exquisite Face of the Universe.
The competition has previously been held in Ms Addy-Sackey's home country, Ghana for three consecutive times. The competition will now move around the world and Nigerian is the first country to win the bid to host the prestigious international competition in 2013. The Competition brings together over 60 contestants from all around the world to compete for the Ambassadorial Crown of "Exquisite Face of the Universe". The winner of the crown will also walk away with US$20,000 in cash, while the runners-up will receive US$10,000 and US$5,000 respectively.
Ms Mutale will join a Panel of distinguished international Judges from different parts of the world. As Founder/CEO of POSITIVE RUNWAY: Global Catwalk to Stop the Spread, Ms Mutale has extensive international experience in judging beauty pageants around the world. Her Campaign, which aims to bridge the gap in the global efforts to stop the spread of HIV/AIDS, works with celebrities, models and Beauty Queens using their unstoppable powerful influence to deliver the HIV/AIDS message in a manner and language that is receptive to the 21st Century generation.
In addition to the above prizes, POSITIVE RUNWAY will offer one lucky winner a Contract to join their world famous signature RED RIBBON Models who walk for a purpose and Model for cause in POSITIVE RUNWAY's efforts to "walk the HIV/AIDS virus out of the globe".
"In recent years model and beauty competitions have become more and more demanding for both the organizers as well as the contestants, as the industry has evolved not only as a vehicle for creating entertainment, but also as a creative way of selecting role models for the 21st century young generation. No longer is it enough for a model or beauty queen to just walk the runway strutting her stuff and simply look beautiful. Let's face it, everyone is beautiful!" said Ms Mutale.
1. Miss Brazil, Paula Souza
2. Miss Nambia, Brandy Kambala
3. Miss Bugaria, Anna Baeva
4. Justina Mutale, Judge (photo by Ingrid Mårn)
For more information on the World Finals of the Exquisite Face of the Universe visit: http://faceoftheuniverse.com/
https://www.facebook.com/pages/Exquisite-face-of-the-universe/442201519230185
Justina Mutale
ANNA - BULGARIA