Akwa Ibom State Power Supply From The National Grid Pegged At 55mw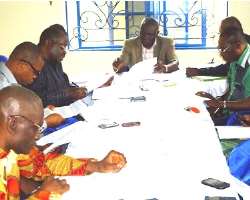 A Cross Section Of AKS Power Stakeholders At A Meeting In The Office Of The SSA On Power
Recently at its monthly operational meeting, Akwa Ibom state power sector stakeholders revealed that the state's allocation from the National Grid is pegged at 55MW.

According to the Stakeholders "under the present circumstances only 12-18MW of the allocation is available for consumption in the state because the transmission line from Aba-Itu-Calabar is dilapidated and cannot evacuate electricity beyond the present capacity"
While addressing the issue, the Senior Special Assistant to the Governor on Power, Dr. Victor Udo said "the allocation from the National Grid is insufficient for Akwa Ibom state's electricity demands thus the need to consider other options for steady power supply"
Dr. Udo said "with a generation capacity of 191MW, Ibom Power Plant is capable of meeting the state's electricity demands"
He explained further that "Ibom power plant has 3 units; one unit has a generation capacity of 115MW while the other 2 units have generation capacity of 38MW each"
He said "efforts are being made to ensure that Ibom Power Plant generates at least 115MW before the end of the year"
Meanwhile, vandalization of electricity facilities has continued to undermine efforts of the government to ensure uninterrupted power supply in the state.
Akwa Ibom state Power Sector Stakeholders stated that "over 112 cases of vandalization have been reported in Uyo business unit while more than 50 cases have been reported in Ikot Ekpene and 35 cases reported at Eket business unit"
"The implication is that even when the government ensures sufficient gas supply, generation and transmission, distribution to the final consumers will be hindered by vandals who tamper with transformers and other electric facilities that have been installed to supply electricity to communities"
Addressing the issue of vandalization, the Senior Special Assistant to the Governor on Power said that his office is "pushing for a legislation to minimize vandalization of electric facilities and theft of Energy"
However, the office of the Senior Special Assistant to the Governor on Power continues to call on residents in communities with power infrastructures to be vigilant and cooperate with authorized electricity officials to safeguard power assets in their communities because when power infrastructures are vandalized the whole community bears the brunt.
A Cross Section Of AKS Power Stakeholders At A Meeting In The Office Of The SSA On Power