Beyonce leaks her own video?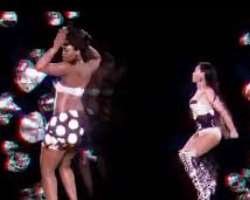 Did Beyonce's 'Grown Woman' video get online by mistake or not?

Grammy winner Beyonce has a new video online for her song, Grown Woman. The video was allegedly leaked over the weekend to the disappointment of most of her fans.
The singer debut her new track, 'Grown Woman' early 2013 during the launch of her Pepsi Now campaign but frustrated her millions of fans when no video followed the hit track. With the new images which surface online recently, it's speculated that Queen Bey may have shot the video after all. But why didn't she release it then?
According to NecholeBitchie, 'a 90-second clip of the alleged 'Grown Woman' video made its way online, and it features Beyonce shaking her tail feather with black hair, while dancing in some fierce Tom Ford boots.  There are also cameos by Kelly Rowland and Tina Knowles (looking like a queen).'
The new video shows Beyonce going full-African; with her dance and attire as well as the beats of the song. Although the video's leak doesn't seem intentional, there are alleged claims that she may have also allowed it to go viral. The leakage has been received with mixed feelings from fans across the globe with some claiming, Beyonce may have leaked her own video.
Some even say the heavily African-inspired video kind of fits into the current 'Nelson Mandela death era' and so, is she trying to take advantage of Madiba's passing to sell her music? Why is her all-African inspired hidden video showing up just days after Africa's hero Mandela's death? Is Bey trying to trend with Madiba?
Well, it's been almost a full year since the song premiered and knowing the business woman, Bey would have probably included this as part of her DVD released a few weeks ago.