Dangote Sugar promises superior yields for shareholders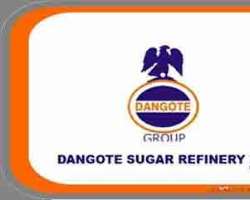 The Managing Director of Dangote Sugar Refinery (DSR) Plc, Mr. Graham Clark yesterday promised to deploy his experience in sugar business to deliver returns that will meet stakeholders' expectations.
Clark, who has experience of 30 years in the African sugar industry, was the MD of Illovo Sugar Limited, Africa's biggest sugar producer, with operations in six African Countries, before joining DSR recently. Speaking to journalists in Lagos on his plan for DSR, he said working with the board, management and other members of staff of the company, its position as a leading sugar company would be consolidated in the market.
'Our plan is to consolidate what we have and build on the plans to continue to reinforce DSR as the leading player in sugar in Nigeria.   There will be exciting things taking place in the next few years. We see our sugar development story effectively moving from now through a period of five to 10 years, when we will develop new sugar plantations, new sugar factories across the country.
We will embrace Nigerian farmers to join us in the production of our raw material, which is sugar cane. We will stimulate considerable economic activities in the rural communities. Employment is a major objective of the Dangote Group and we see ourselves employing many people. More 150, 000 can be employed by our sugar business and it will have a multiplier effect,' he said.
According to Clark, apart from the acquisition of Savannah Sugar Company in Adamawa, State, the company plans to develop other sugar fields across the country put at over 300,000 hectares. DSR  had posted a in profit after tax (PAT) of N11.3 billion  for the third quarter ended September  2013, up from N8.2 billion in the corresponding period of 2012.