Speechless: Horror On Lagos - Benin Expressway ... Don't Look Away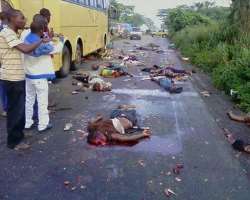 SPEECHLESS: HORROR ON LAGOS - BENIN EXPRESSWAY ... Don't look away
~ From Correspondent in Lagos, Nigeria.
Please let us avoid night travels where possible.
If I were God, I will make sure the perpetrators of this heinous act are lynched.
Man's inhumanity to man. A bus was ambushed by armed robbers, the passengers were robbed and raped, those that had nothing to give were asked to lie down on the road face down and the driver on gun point was commanded by the robbers to drive the bus over them!!!!
WHO IS THE WICKED ONE. THE ARMED ROBBERS OR THE DRIVER?
the driver is wicked. the driver drove over them not the robbers.....pls lets avoid nite travelling.
|
Article source