Eko Hotels builds Signature with N2.5bn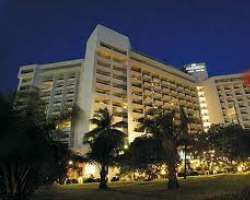 An  additional 171 suites, that is estimated to have cost N2.5 billion, has been added  by the  owners of the Eko Hotel & Suites to its existing 654 suites.
The new building called  Eko Signature is close to the old Eko Hotel building and shares the same border with the popular Eko Convention Center.
The head of Sales and Marketing, Eko Hotel, Iyadunni Gbadebo, who conducted  travel journalists round the property disclosed that the Eko Signature affords a brand new experience of sophistication.
'With a bold contemporary style and 171 exquisitely furnished 5 star suites, every detail has been designed and created to relax and indulge senses. Each room has an elegant yet modern setting, with a contemporary European touch.

It is tastefully designed and furnished with the professional executives and guests in mind as our suites embody elegance.' Explaining that that Eko Hotels group consistof Eko Hotels, Eko Suites, Eko Gardens and Eko Signature, she said that Eko Signature recently started improving on existing facilities at the premises.
'The idea is to make Eko Hotels a one-stop hotel destination in Africa that can compete with similar establishments globally. 'We have 654 rooms available at Eko Hotels and with the 171 rooms added at Eko Signature to give us a total of 825 rooms and this will give us competitive edge over other hotels in Africa.'
She said that improvement of facilities was in line with customers' demand and to meet up with the growing market. 'We are committed to delivering excellent services to customers and investing on unique products.
'Our objective is to take the hotel to the highest level. We believe in the future of the hotel and the Nigerian market,' she said. Gbadebo said that aside from the new 171 rooms, the hotel had other facilities like a bar, six meeting rooms, butler service, room service, spa and library.
The director said that the workers were well trained to understand the business environment and to offer excellence services to guests.







vanguard