North Korea confirms purge of senior military leader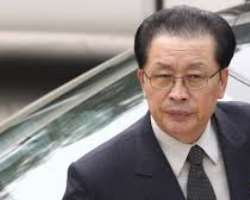 North Korea has confirmed a purge in the higher echelons of its military and accused the outgoing vice chairman of its National Defense Council Jang Song-thaek of committing "criminal acts baffling imagination". Jang (67) was stripped of all titles and sacked from the ruling Workers' Party of Korea.
The decision by Kim Jong Un, North Korea's young dictator, to go public about the purge is being seen by observers as a sign that Jang may be executed.
Jang is Kim Jong Un's uncle-in-law and was a close advisor of his father and former dictator Kim Jong Il till his demise in 2011.
Jang was the one who remained in close contact with South Korea and China besides appointing officials who managed the diplomatic relations. Seoul is particularly worried that Jang's purge might result in the young Kim Jong Un showing his bravado by taking military action against South Korea besides threatening US forces in the area, sources said.
Jang has been punished for his "anti-Party and counter-revolutionary crime", North Korea's official news agency KCNA reported.
"Jang and his followers committed criminal acts baffling imagination and they did tremendous harm to our party and the revolution," it said. His crimes included taking drug, womanizing and gambling on high stakes in casinos overseas, it said.
Jang who observers believed helped the new dictator consolidate his position since 2011 has been officially declared a double-dealer who abused his power and challenged the "sole leadership system" led by Kim Jong Un. He tried to take control of major economic development sectors and "led a dissolute and depraved life," the agency said.
Observers are divided on whether Jang's departure will enhance or reduce China's influence over North Korea.
The purge will mean a promotion for Choe Ryong Hae, political director of the North Korean military, who visited Beijing last April bearing a personal letter from Jong Un. Ji Jae Ryong, the current North Korean ambassador to China and a close associate of Jang, has kept his position. These developments suggest Beijing continues to command influence in North Korea which has few other friends.
Jang exercised a calming influence over Kim and made it possible for the six-party talks on denuclearization of North Korea to continue. With Jang's ouster, the future of the talks and Beijing's influence over North Korea's unpredictable leader is in question, sources said.
TNN