Alleged Gigolo, Aremu Afolayan Secretly Marries Lover In Abuja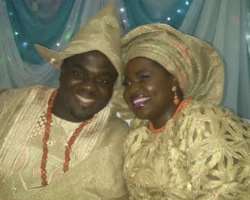 Aremu Afolayan, the younger brother of ace filmmaker, Kunle Afolayan has secretly married his lover. Aremu, who has been alleged to be a gigolo by some people, took the step to settle down with a woman after it was reported some months ago that he had a bust-up with Kunle over his alleged romance with older women.
Aremu secretly married his wife, Olayinka Kafilat in Abuja with few people in attendance.
Some have started to insinuate that Aremu hooked an older lover. Kafilat is said to come from a very rich family. The couple, according to what we gathered, will live in Abuja, where Aremu has relocated to for some time now.