Mandela, A True Freedom Fighter For Black Race: Ashafa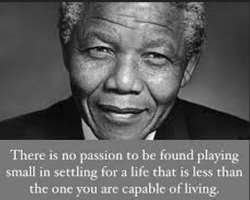 The Vice Chairman, Senate Committee on Lands, Housing and Urban Development, Senator 'Gbenga Ashafa has joined the rest of the world to commiserate with the Family of the former South African President, Dr. Nelson Mandela, who passed unto eternal glory on Thursday, December 5, 2013.

In a condolence message, the lawmaker expressed immense sadness over the demise of the South Africa's first black president, stating that his departure at 95 is a great loss to the world.
"Mandela was an epitome of morality, integrity, leadership and indefatigable freedom fighter that we all should emulate, he was indeed a true african that stood his ground during the struggle for racial equality, as he successfully fought against an apartheid system that made black South Africans second class citizens in their own country"
His death is surely a great loss to South Africa, the African Continent and the whole world at large, he will surely be missed by all" he said.
From Babatunde Adegunju, Head of Media and Strategy. Senator 'Gbenga Ashafa Constituency Office.