Nelson Mandela: Why The World Will Never Forget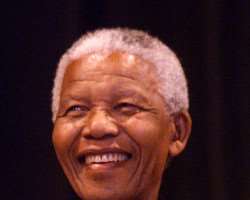 Picture the world for a moment as a silent pond where God casts occasional pebbles to cause a ripple. If Nelson Mandela were a pebble in God's hands, what sort of ripple would you say he has caused?

This might sound simplistic, of course, but I am at a loss about how to wrap my mind around the magnitude of Nelson Rolihlahla Mandela; how to contemplate the very idea of Nelson Mandela. What god sired him? What smithy forged his soul? Pardon my hyperbole but how else would one fully grasp the enormity of a man who single-handedly reshaped our world?
Most people around the globe are well acquainted with the Mandela story; a story of unspeakable courage and tenacity; of a will that is stronger than iron and a soul purer than gold. While it may be true that his royal background may have prepared him for leadership, it is common knowledge that a royal birth does not always translate to a nobility of character. The world is full of royal knaves. But Madiba was different. His autobiography, A Long Walk to Freedom, offers ample insight into his ancestry and the character strength of his father who bore his pain with dignity for speaking the truth and standing resolute to ensure that Jogintaba, the regent of Thembu, ascended the throne of his fathers. Mandela inherited his father's cold resolve and capacity to endure pain. From the same book, we gleaned that Mandela became fascinated with chieftaincy and the church in equal measures but we are reminded of his humanity when we learn that even while living in the midst of surplus in the regent's house, little Mandela stole maize from Rev. Matyolo and was punished. Ironically, great as the rest of his life was, it was never without faint reminders of his humanity.
Nelson Mandela arrested the attention of the world when he showed the iron will he inherited from his father, Gadla Henry Mphakanqiswa by surviving the inhuman conditions in the Robben Island jail for 27 long years. In so doing, he shattered racial stereotypes on the inferiority of the black race; our trumpeted emotionalism and our so-called love of pleasure. Madiba was to burst more stereotypes when he wilfully handed over power to his successor, Thabo Mbeki, at a time when he could easily have done a Mugabe and held on to the office for life and no one with any sense of justice would have blamed him.
Madiba made life more difficult for racial profilers when he rose above the usual cut of mortals to bestow forgiveness on the promoters of Apartheid and lay a solid foundation for a rainbow nation. Through his understanding and bestowal of forgiveness on the people who persecuted him, Madiba redefined our world and created a new attitude to race relations. He reminded us that sometimes the greatest strength may be found in what might be considered the greatest act of vulnerability. Through his many remarkable feats, he firmly hoisted himself across the various chasms that separate our world and became a part of everything good.
Until his death in the evening of December 5, 2013, Nelson Mandela's life could be considered as one of absolute grace. He rose from so many years of astonishing uprightness to become the conscience of the moral world. He was so outstanding that there is no human being in living memory that could be compared to Nelson Mandela. He lived among the gods; his trademark sunny smile was like an island of peace in a world riddled with strife. Back home, he was the sinew that held the various colours of his rainbow nation together in one piece.
But our world resents absolutism. And not even Mandela is ripe enough for such honours. The voices against him may not be many but they are strident enough to deserve attention. There are people who blame him for focusing so much on political power that he failed to get a good economic deal for black South Africans. Such people often forget that as at the time, Mandela and his generation were overwhelmed by the brutal way the Apartheid regime wielded political power.
Economic power is potent but non-threatening. Besides, if Mandela had wished to do a Mugabe, he would have done that quite easily and the world would have applauded him under the political climate of the time. But would it have set the moral tone for the rest of humanity as his restraint did? It's doubtful. Zimbabwe's scandalous condition today is proof that Mandela was a better thinker by the distance. Those who criticize his personal failings and failed marriages must have closed their eyes to the price of being Nelson Mandela or the fact that those flaws and errors of judgment actually humanized him. It is always easy to judge a man from a distance.
My first visit to the Apartheid Museum in Johannesburg made me realize what it meant to live in Apartheid South Africa but less so what it took to be a Nelson Mandela. My subsequent visit to his Soweto home did all that to me. When I stood in his tiny living room and raised a clenched fist in Amandla salute beside a big portrait of him, when I strolled into his bedroom and beheld the narrow bed he shared with Winnie in the turbulent years of the struggle, I wondered how any man in such condition could have believed himself.
As I wandered around the quaint, little compound and read sign after sign on the walls, I marvelled at God's infinite wisdom to have raised a shepherd boy in the remote village of Qunu to lead the majority blacks of South Africa out of the cruelties of man's inhumanity to his kind into the brilliant dazzles of the rainbow. I nodded to myself for the only symbolic thing I have ever done to honour him - the naming of my four-year old son, Madiba, after the great one. And now, I feel content when my little Madiba does little things that echo his namesake. Like when I came home from work one day and hugged my wife and children and left out my house girl and he looked up pained and insisted that I hugged her; like when he insists that no one leaves the house until we were already to go out anytime the family is going to church or on a day out. Of course, my son is not Nelson Mandela but those little acts lift me up.
And while the world may never see another Mandela, it just might be that the world has made a tremendous leap from the moral universe that created him. And the more I think of it, the more I feel content about one thing - God made me a member of a race whose humanity the world loves to deny, but God made the world accept my humanity when he made Nelson Mandela a member of my race.
Adieu Madiba!
Disclaimer:

"The views/contents expressed in this article are the sole responsibility of the author(s) and do not necessarily reflect those of The Nigerian Voice. The Nigerian Voice will not be responsible or liable for any inaccurate or incorrect statements contained in this article."