ECOWAS TAKES MALARIA ELIMINATION CAMPAIGN TO COMMUNITIES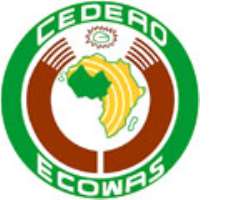 ECOWAS TAKES MALARIA ELIMINATION CAMPAIGN TO COMMUNITIES
ABUJA, Nigeria, December 5, 2013/African Press Organization (APO)/ -- ECOWAS officials and health experts from within and outside the region are meeting in Abuja to develop a Community Mobilization Plan of Action to boost the regional Malaria Elimination Campaign through the strengthening of the vector control strategy.
The meeting, which opened on 2nd December 2013, seeks to generate ideas and strategies for effective community mobilization and buy-in to make the regional anti-malaria campaign a resounding success.
In his opening speech, the ECOWAS Commission's Vice President, Dr. Toga McIntosh gave an update on the Commission's collaboration with Cuba and Venezuela to scale up malaria elimination interventions in West Africa, noting that some progress had been achieved with the groundbreaking ceremonies for the construction of three biolarvicides factories in Ghana, Cote d'Ivoire and Nigeria.
Represented by his Executive Assistant, Mr. Urias Harrington III, the Vice President said the level of progress informed the need for the development of an action plan to effectively mobilize ECOWAS communities towards the preparation for the mass application of biolarvicides, the safe substance that kills mosquitoes, the malaria vectors in their larvae development stage.
He explained that the vector control strategy would complement other anti-malaria interventions towards making ECOWAS a malaria free region.
The ECOWAS Health Advisor and focal person for the regional Malaria Campaign, Dr. Mariane Ngoulla, underscored the importance of community mobilization to the elimination campaign, saying that malaria "knows no boundaries and cannot therefore be dealt with as a country specific problem."
She enjoined participants to come up with a framework for an integrated approach to community involvement across West Africa for the elimination of malaria, which kills a child every 40 seconds and has claimed more lives than all the wars combined in Africa.
Studies by the World Health Organization (WHO) have shown that vector control is the only intervention that can reduce malaria transmission from high to zero level.
Participants at the Abuja meeting include representatives of ECOWAS Member States, partners from Cuba and Venezuela, as well as civil society organizations and other stakeholders.